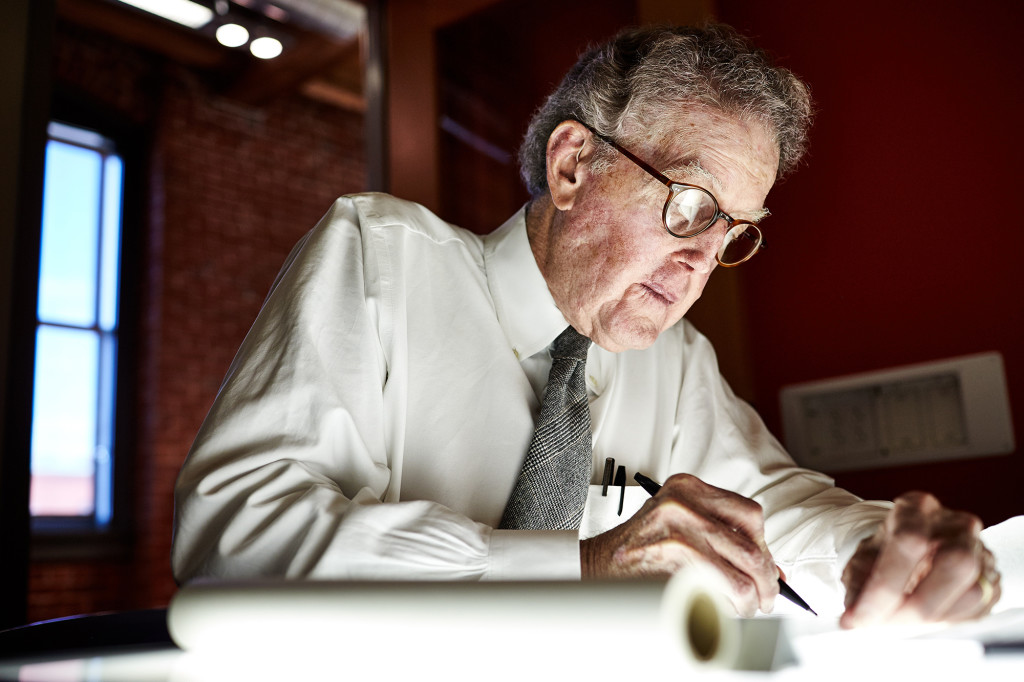 Eugene J. Mackey III
FAIA, LEED AP, Principal Emeritus
1938-2016
It is with incredible sadness that we announce the death of Gene Mackey, colleague, mentor, firm founder, and a prominent member of the St. Louis architectural community. Gene's contributions to the field and to the built environment in St. Louis were immense and he will be greatly missed.
In honor of Gene Mackey, a traveling and sketching scholarship has been created. Please click HERE to read about the scholarship and how you can contribute.
---
At our annual office holiday party held in mid-December, we presented this tribute video of some favorite "Gene stories", heartfelt memories that only start to show how he made a difference to so many of us.
We are deeply appreciative of the kind thoughts and messages from our friends and colleagues. Gene's spirit touched and inspired so many.
GENE MACKEY
DECEMBER 19, 1938 – NOVEMBER 27, 2016
To quote Gene as he reflected on his life:
"The journey has been exciting and has allowed me to learn so much about myself. I appreciate all those I have worked with, and I feel a real sense of friendship with many who have also become important supporters of our firm and our philosophy."
---
Listed in alphabetical order by last name:
This is such sad news. We have lost an amazing man.
I consider myself fortunate to have met him. I will always remember our little tete a tete before [Marcus] arrived at the lunch date. He did his best to encourage me to persevere in the work, serve as the sage with all my experience and strive for excellence in the project.
– Jan Albus
Variety St. Louis
---
Gene was a very special guy to me, I enjoyed and respected him immensely. And we had an extra bond since we shared the fact that our fathers were in the business and had worked together – and then we were able to work together for many, many years.
I always picked up "pearls of wisdom" whenever I talked with Gene; which wasn't often enough. He just "got it" and seemed to always be able to give the right guidance on every subject – design, business, life, situations and relationships,…etc. I especially enjoyed when [Dan and Gene] officed together and I'd get to sit with you both and just talk about things.
– Marc Alper
Alper Audi, Inc.
---
I'll always recall the wonderful influence Gene had on me in our early business days together. Whether fishing or behind the desk, Gene was a wonderful friend.
– Gary Balke
Balke Brown
---
We all will remember Gene for his professionalism, his contribution to the architectural community and society, his energy and remarkable spirit.
I feel gifted having had the opportunity to work with him and all of you on the Brown School project.
Our thoughts are with you and the entire Mackey Mitchell Architects firm.
– Simone Barth-Auster
moore ruble yudell
---
My thoughts and prayers are with Gene and his family. Gene was a notable person in the Architectural community and especially here in St. Louis. He will be missed greatly. May God grant him eternal peace and console his family and friends in this most difficult time.
– Richard T. Bradley
Board of Public Service, City of St. Louis
---
My friends and colleagues at Mackey Mitchell:
I was profoundly saddened to hear of Gene's passing this week. A consummate professional who made all of those around him strive to make a better world through what we do. Having reflected a bit on my time working with Gene over the years, I find myself smiling more than anything else. His wit stayed with me long after our face-to-face meetings. I always enjoyed our collaborations.
One of my favorite (and I think little known) anecdotes involving Gene was from a teaming I had with him on designing the new Tony's Italian restaurant in Saint Louis. Tony's venerable North Broadway location was to be torn down to make way for the TWA Dome in the mid-1990's. Prior to kicking off the design effort, owner Vince Bommarito suggested we have dinner at Tony's (both Gene and I had eaten there separately several times over the years) and take in the fine dining experience once again. We accepted his invitation. What was already to be an enjoyable and informative evening was quickly made even more so by Gene's insistence that we be reseated at a new table after every course of the meal so that we might truly explore the many pleasurable perspectives of the Tony's guest. After our fifth move to close the evening with zabaglione and espresso, I felt I knew Tony's as well as could any diner. Cheers, Gene.
– Randy Burkett
Randy Burkett Lighting Design, Inc.
---
Friends and colleagues, I've been thinking about all of you since I heard the news of Gene's passing. What a transcendent figure, not only for the firm but indeed for the City of St. Louis.
To spend time with Gene was to receive a rapid fire lesson in history, architecture and politics. I'll always remember his great sense of occasion, fantastic stories and of course his drawings.
My deepest condolences,
– Ian Caine
The University of Texas at San Antonio
---
I had the brief good fortune of crossing paths with Gene on a few occasions over the course of my career – both professionally (including as an FAIA guy and on state AIA Committees where his gravitas proved essential!), in business, and while both serving on the College of Architecture Dean's Advisory Board at K-State. As you know better than most everyone, Gene was a passionate Architect. He made a huge contribution to the profession, to St. Louis, and to the lives of many younger architects (myself included).
My deepest sympathy to Gene's family and all of you who knew him so well. He will be missed; but his legacy will live with us all through his work and his passion.
– Casey Cassias
BNIM
---
I worked with Gene on global projects for over 40 years and found Gene to be a pure 'artist' in the field of architecture. Beyond his passion for his profession, Gene taught me one of my great lessons of 'leadership' along my personal journey. Over 40 years ago Gene told me that you need to embrace challenges we face in life and transform them into unique opportunities. The most recent example is Chapman Plaza at Shaw Park in Clayton where his passion for the 'humanity of space' led to a vision for the future of Shaw Park. Gene's legacy is one in which his 'father' will be well pleased.
– Bob Chapman
Barry-Wehmiller Group
---
I was saddened to hear of the passing of Eugene Mackey. Although I had never met him, other colleagues spoke so highly of him, and, from reading his obituary, his professional, civic and personal accomplishments were so very impressive. I'm sure his guidance and leadership will be missed.
– Rena Cheskis-Gold
Demographic Perspectives, LLC
---
It has been one of the honors of my life and career to work side by side with one of my early heroes in architecture, Gene Mackey III, FAIA
Gene passed away today to the angels but leaves behind a legacy of family, friends and professionals (including me) that learned and honed their craft inspired by his sense of design and class act.
Although I was aware of Gene from early on the first time we had a chance to work together was on the Clayco HQ in St Louis. Not only did we get to work together many more times, but I also counted him among a small number of key mentors and asked him to give guidance and critique on many, many projects where other design firms were involved.
He leaves a legacy not only of landmark projects all over the USA and particularly St Louis but in addition, and much more importantly, a well schooled and accomplished team of design professionals to spread the talent and message of his work.
Join me in thoughts and prayers for his family and friends.
– Bob Clark
CLAYCO
---
It's been almost 60 years since Gene and I met at Washington University. Over those many years, his friendship and professional guidance have been a constant in my life. His talent and values were an example to all of us in the profession. He was an inspired and worthy successor to his distinguished father, and he is leaving behind an impressive body of work and a firm whose impact extends across and beyond St. Louis. His dedication to the architectural heritage of St. Louis has been invaluable.
I went to him for advice when I started my own practice, and I've had the special opportunity to watch his practice grow. My heartfelt thanks to Gene for all the breakfasts and lunches and animated discussions and energetic observations, through times of smooth sailing and times when the waters were more than a little choppy.
I now live in northwest Michigan. My last visit to St. Louis was primarily to see Gene. While together, we made a spontaneous trip to Bellefontaine Cemetery, one of our favorite places. It was a beautiful day, and I will always treasure the memory.
My deepest sympathy to you and the Mackey family.
– Richard Claybour
---
I found pictures this week after hearing the sad news about Gene's death. Clearly I have kept them and others over the years because they hold so much meaning. The tribal tales Gene told were the foundation for my development as an architect and as a person. The relationship he had with Dan [Mitchell] taught me to trust others completely and find folks who complemented my skills . The relationship he had with Cindy [Petzoldt] led to my understanding of how different people can be invaluable partners in my career (I still talk to Deidre on a regular basis after 5 years of not working with her). Gene's commitment to the client not just the project was a foundation for how I tried to practice and pass on to others. The books he put on my reading list were passed along to many a young architect in my charge. The confidence Dan and Gene placed in the little band of us in Kansas City was stunning in retrospect and life changing for me. Lastly – no one rocked a sweater and scarf like Gene Mackey .
I am blessed to have known Gene and Dan. His legacy lives on in the tribal tales that will continue to be told and the many people like me that he touched deeply.
– Becky Cotton
[Former Owner/Principal – Mackey Mitchell Zahner, Kansas City]
---
I just learned of Gene Mackey's passing. I only met him a couple of times, but I understood he was very much respected in the firm and the community.
Sorry to hear of this loss. Respectfully,
– Shannon Duffy
CR architecture + design
---
I noticed the news of Gene Mackey's passing and wanted to share my/our condolences to you and the entire Mackey Mitchell family. Jan and I have very fond memories of our brief time in St. Louis back in the early 80's… nearly 35 years ago… and yes, we are that old : ) I truly enjoyed working together with Gene, you and the rest of the crew there and gained a lot of valuable experience and had a lot of fun early in my career.
Please send my/our greetings onto anyone still with the firm who might remember us. Life goes by fast and I'm sorry that Gene didn't get a chance to enjoy more of it.
– Dan Durkee
Fishbeck, Thompson, Carr & Huber, Inc.
---
Sorry to hear about the passing of Gene Mackey. I had only met him a few times, but of those times I thought of him as a thoughtful and inspiring person. We at CDI will keep Gene, his family, and his work family in our thoughts and prayers. It is quite an achievement to excel and do so very well in our business, and I am sure all of you are proud of his enduring legacy.
– John E. Falk
Civil Design, Inc.
---
How very tragic to hear this news. Gene was a true gentleman and ultimate professional and I feel blessed to have experienced some time with him. Our condolences to you and your entire team.
Sadly,
– Patrick Gallagher
Gallagher & Associates
---
Gene significantly contributed to the built environment of the St Louis area. We worked with Gene on several special projects over the years including the Stupp Fountain in front of the museum. We will work to make sure that the Soldiers Memorial and the Court of Honor incorporate his vision and dedication to this special project.
– Karen Goering
Missouri History Museum
---
I was deeply saddened to hear of Gene's passing on Sunday morning. My thoughts turned to so many memories of our 27 years of collaboration, discussions about design, philosophies, approaches, process and critiques, project interviews, travels with the office to various cities, AIA conventions, our trip together to Japan, and of course, his wonderful sketches. For all of this and much more, I will be forever grateful for our time and experiences together.
When Gene didn't attend our Fellows lunch in May, I gave him a call to see if we could meet for lunch to catch up. He graciously accepted and we met at one of his favorite restaurants – 1111 Mississippi. He told me of his daily activities as he battled cancer. I was so impressed with his courage and calmness. As was typical of Gene, he offered his insights and advice in a fatherly manner. And, of course, we talked about the general state of architecture. With his inner strength and positive attitude, little did I realize that this would be our last time together.
Gene contributed so much to St. Louis, the American Institute of Architects and to architecture in so many ways. He will be greatly missed.
– John C. Guenther, FAIA, LEED AP
---
I would like to extend our condolences to the Mackey Mitchell family on the passing of Gene Mackey. We have had the distinct pleasure of working with your team on a good number of projects over the years, and always with Gene's input in some respect, e.g. The Shapleigh Fountain at MBG, St. Louis University and most recently with the current Soldiers' Memorial renovation. His trust in our work has been appreciated and always pushed us toward excellence. Our sincere sympathy for you and the Mackey family.
– Anne Gunn
Hydro Dramatics
---
I just learned of Gene's death… It is a great loss to the architectural community. I always admired Gene as a leader and mentor. Please let me know if there is anything that I can do for you.
– Don Hussman
Dickinson Hussman Architects
---
My condolences to you and all at the office on your loss of a founder and mentor. I knew he had some ongoing health issues but didn't realize how serious. I'm sure it is quite a shock to all there. Gene is a St. Louis architecture and community great.
You are in my thoughts,
– Rick Kacenski
[dtls] studio
---
Dan Jay and I, along with our entire Christner family, wanted to let you know we are thinking about you after the passing of Gene Mackey. I had the pleasure of working with Gene for 3 ½ years and Dan served with Gene on the board of AIA St. Louis, so we both have a personal connection to Gene, as do others in our firm. Gene was a great man and St. Louis is a better place to live, learn, work, and play thanks to his contributions to our built environment. His passion for architecture is unmatched in St. Louis and he will be sorely missed.
– David Kehm
Christner, Inc.
---
I'm very sorry to hear about Gene's death. He was one of my favorite people – such a stable and positive person. I will really miss him.
– David Kemper
Commerce Bank
---
Dan [Mitchell], You two were a truly balanced set of partners each complementing the other's strengths and weaknesses. He was someone who pushed everyone around him to excellence including staff and clients.
It would be interesting to do a family tree of all the people who passed through the firm who have gone on to expand on his approach. That's his true legacy.
I came across him at a SCUP conference a few years ago. He was as smooth and gracious as always and said he was proud of what I've accomplished. I always looked up to him but never felt I matched his expectations. Hearing those words of encouragement from someone who drove me beyond my capacities, was truly meaningful.
Someone who sets impossible standards will always get beyond expectations.
– Kevin King
---
Gene has been a dear friend, trusted colleague, inspiring mentor, and amazing advocate for the architectural profession. He made my life, the WashU campus, and the entire profession better, richer, and more meaningful.
Since meeting Gene upon arriving in St Louis, he has deepened my understanding of the built environment, always reminding us all to think first about the experience and not the physical.
His impact on our community, its individuals, and the profession is deep and will endure forever.
– Jamie Kolker
Washington University in St. Louis
---
I just heard the news about your mentor and colleague Gene Mackey. You have spoken so highly of him and from afar his impact on St. Louis and beyond resonates. He will be with you always as you continue his great work.
– Deanna Kuhlmann-Leavitt
Kuhlmann Leavitt, Inc.
---
I am so sorry that Gene has left us. My heart goes out to all at Mackey Mitchell. I am so glad I had the privilege of working with Gene on Jubel. I miss his clear and thoughtful words.
—
One of the things I will miss about Gene is his "whisper" voice. It always made me laugh when he would talk "quietly". There are many more things but this is one of the things that brings a smile to my face thinking about Gene and going to meetings sitting next to him.
– Lani Lee
moore ruble yudell
---
Gene taught me so much in my short time here. How fortunate you were to learn from him over time. Please know that we will carry out the Soldiers Memorial project with the values and high aesthetic that Gene always shared with us.
With sadness,
– Fran Levine
Missouri History Museum
---
I am so sorry to hear the news about Gene. Our hearts and prayers are with all of you and his family.
– Pamela Lyerla
Washington University in St. Louis
---
This is very sad news. I met Mr. Mackey soon after I started at Soldiers Memorial, and since that first meeting, it's been my privilege to work with him on the project here at Soldiers Memorial.
– Lynnea Magnuson
Soldiers Memorial Military Museum
---
I am very sad having lost a friend of more than 30 years. He was a real advocate for St. Louis and our city is a more beautiful place because of his efforts.
– Jim Mann
Taylor Family Office
---
We will always remember him as an incredibly talented architect and a wonderfully gentle man. Know that a candle will be lit this morning at the Grotto with prayers said for him and his family as well as for the Mackey Mitchell family who mourn this loss. Please pass on our condolences to Dan.
– Doug Marsh
University of Notre Dame
---
I found the news of Gene's passing this morning looking at emails and want to convey my sense of sadness at his passing. I've missed his strong and yet warm presence at our last few meetings and know that your office must feel a very deep sense of loss.
– Michael Martin
moore ruble yudell
---
Our condolences go out to you, Mackey Mitchell Architects, and the Mackey family. We are all saddened by the news of Gene's passing. We admire Gene for being the ultimate model of professionalism, the ever vigilant advocate for good architecture and urban planning, combined with his unique wisdom and paternal warmth. Gene will be deeply missed.
– Neal Matsuno
moore ruble yudell
---
I knew Gene from college and all through our shared careers. He was a charming and very talented man; always fun to be around. I will miss him.
– Mike McCarthy
McCarthy Construction
---
I am so sad to read of the loss of Gene. When I was a younger writer on architecture, he and I bonded a bit over our shared love of St. Louis (my hometown too), and I knew he told me things straight about how it worked (or didn't). I admired his architecture quite a bit and always knew he wanted the best for the city. My best to his family and to you, his colleagues.
– Brad McKee
Washington DC
---
I have been exceptionally sad since learning of the passing of my good friend Gene Mackey. I was fortunate enough to have worked with him closely late in his career. He was a great mentor and confidant to me, generous with his time, and we always had interesting conversations about current projects, travel, architecture, and design. He left an indelible mark on St. Louis and beyond, and he is greatly missed, and will always be fondly remembered. I send my heartfelt condolences to the entire Mackey Mitchell family.
– John P. Miller
kpff
---
Gene instilled an entrepreneurial spirit in all of us who had the opportunity to work with him. Gene always viewed the firm as a platform, or a stage to perform. Gene provided the opportunity for me to truly be energized about the firm and the profession I have chosen and his perspective helped shape the community we all live in. For me, these extraordinary contributions start with a strong sense of self and the ability to lead others. He drew out the best from all of us. I am a better person today as a result of Gene's influence. I have lost a mentor, a business partner, but most important, my best friend.
– Dan Mitchell
Mackey Mitchell Architects
---
Ohh, that really knocked the guts out of me, Dan! He was really a wonderful guy in ALL aspects and I shall truly miss him as the great mentor and friend he was to me. I can only imagine the great regard that exists between you two and that never dies. I was truly lucky to have known and worked for and with him. I won't forget that ever.
– Don C. Musick
Musick Construction
---
On behalf of everyone at LNB office, it is with our deepest sympathy that we offer our condolences to you and your firm for the loss of Gene. He was a great guy, and great architect. I am sure the entire St Louis community will miss him.
– Laura Neri Baebler
(+ Matt, Michael, Nicole)
LNB Architecture
---
I was so sorry to hear the news about Gene. He was a wonderful person, an enthusiastic proponent of our design community and a guiding role model for so many. He has left behind a gleaming legacy, and I know you all are proud to have contributed.
He will be sorely, acutely missed. Thinking of Gene, thinking of you.
– Brian Newman
Washington University in St. Louis
---
Thanks for taking the time to share such sad news, and I cannot believe that this has happened. Gene was indeed a wonderful person, I feel truly blessed to have had a chance to meet him and work with him, to have seen his passion and commitment towards the CWE project, which I am sure we will honor with a great project.
We at Werner Sobek send our condolences and prayers to his family and to you all at MMA, and please do not hesitate to ask for our help and assistance if there is anything we can do.
– Enrica Oliva
Werner Sobek
---
I will miss Gene's feistiness, kindness and all out humanity. I remember many long days of meetings in Knight Center while staying in the hotel upstairs. Gene took the time to introduce us out-of-towners to the wonders of St. Louis: nice restaurants in the Central West End, the St Louis Athletic Club, Winslow's Home, Concordia Seminary, Bissingers and events at the Pulitzer. The man had soul.
My thoughts go out to Gene's family and all of you in St Louis.
– Adam Padua
moore ruble yudell
---
I was very sad to learn about Gene's passing…he was a major force in my life. It's hard to get my mind around the fact that he's not here…time goes by so fast. Best regards,
– Karl Pettit
[former Principal – Mackey Mitchell]
---
You and we have lost a truly inspirational person and architect. Gene was a friend, one who will be greatly missed.
My thought are with his family, you, and your colleagues.
– Fred Powers
Powers Bowersox Associates
---
During the short time I worked with him, I learned of his integrity, thoughtfulness and dedication. He will be sorely missed.
– Jason Pytko
moore ruble yudell
---
I am so sad to read your note. What an amazing man with extraordinary vision. He will truly be missed on this project- I am so happy he was involved as much as he was, but so sorry he will miss the completion. So glad we have you and Erik to continue his work. Thanks for letting us know.
– Kathy Reeves
Enterprise Holdings Inc.
---
My fond memories of Gene date back to the commencement ceremonies at Vanderbilt in 1993 where Gene, waiting for things to begin, was doing pen and ink drawings of the campus architecture. He was kind enough to share several of them with me and my daughter has the framed copies in her home in Atlanta.
What a wonderful talent and thoughtfulness.
– Harry Rich
Missouri Historical Society
---
I received the unfortunate news over the weekend that Gene passed away. Whether this tragedy was expected or sudden, it is a terrible loss to say the least. I know Gene was a mentor to you and the two of you shared a unique and special relationship. With that in mind, I wanted to express to you my heartfelt condolences. My thoughts and prayers are with you and the Mackey Mitchell Family.
– Scott Roarke
Alper Audi, Inc.
---
So sorry. I had only talked with him a couple times but he impressed me immediately with a sincerity and clarity of thought. I'm sure he will be greatly missed.
– David Ross
KZF DESIGN
---
It was a great pleasure to have known Gene both as colleague and a good friend. Gene was the most outstanding architect I ever had the opportunity to work with. He had the talent and passion to think beyond building walls and to see building projects in their totality. He cared about architecture's effect on the land, on neighborhoods, on the environment, and on society as a whole. He thought about how the quality of environment could transform people. He was tireless in challenging his colleagues, clients and associates to strive for excellence. He often raised the bar for me by demanding my work must look like "the hand of God" was involved.
We all owe a lot to Gene. Washington University, Bellefontaine Cemetery, and the City of Saint Louis, have benefited immensely from his work, leadership and life. We shall carry on as though he is still here looking over our shoulders, mentoring and challenging us to think BIG.
– Herb Schaal, FASLA
---
We just received notice about Gene's passing. Just reaching out to let you know that we are thinking about you and the firm.
He was always insightful and encouraging, and certainly loved his community and the profession. He will be missed.
– Craig Scranton
BNIM
---
I was saddened today to hear about Gene and wanted to send a brief note to offer my condolences and sympathy. I had the honor to work on a couple projects with Gene, and I often marveled at his ability to balance the big picture with the fine details during design meetings. I've always enjoyed my previous project experiences with Mackey-Mitchell, and I am sure it has a lot to do with Gene's visionary leadership of the firm. Gene has had a hand in developing a lot of architects whom I've found to be great teammates and make it fun to work together on projects, and I am sorry to hear about your loss. Know that the Mackey Mitchell family is in my thoughts and prayers during this challenging time.
– Paul J. Sharamitaro
BSI Constructors, Inc.
---
We at HERA are saddened to hear of Gene's passing.
Gene was a friend and mentor to Janet and me as we started HERA, and on through the years as our firms continue to collaborate. He continued his father's legacy with MMA, and you have developed a great firm from his example.
– Laurie Sperling
HERA Inc.
---
I can't imagine doing this job without the counsel, guidance, prodding and loving care of Gene Mackey… it just won't be as much fun for awhile.
– Michelle Swatek
Executive Director, AIA St. Louis
---
On Behalf of Whiting-Turner, I extend our sympathies for the passing of your friend and founder of Mackey Mitchell Architects, Gene Mackey. Unfortunately, I never had the privilege of having met Gene, but I do know his impact on the world of architecture speaks for itself. Not only did Gene touch the lives of countless individuals through his daily work, he was the pioneer that laid the foundation for MMA as we know it today. Whiting-Turner and I are grateful for the culture that he created and the individuals he helped mold. Without Gene's vision the strong relationships we have built both individually and between our companies would not be possible.
It is a testament to Gene the heights that MMA has reached.
– Daryl Steinbeck
The Whiting-Turner Contracting Company
---
The staff of the Nine Network were just informed of Gene Mackey's passing. I am so sorry to hear this news. My thoughts are with you and the staff at Mackey Mitchell Architects.
– Lauren Tucker Huber
The Nine Network of Public Media
---
I recently learned of the passing of Gene Mackey. My condolences for this loss. While I did not know Mr. Mackey, I can only imagine the influence and impact he must have had on your firm and on your respective careers.
– Valerie Vander Berg
webb Foodservice Design
---
I was very deeply saddened when I heard the news on Sunday. It stuck me still in a way I did not expect. I am thankful I got to know Gene for the time I did and will always remember him with great fondness.
My sympathies to you and all there.
– Michael Vergason
Michael Vergason Landscape Architects, Ltd.
---
I just heard the news about Gene. I only had the pleasure to work with Gene a few times but found him to be very unique and talented architect.
My sincere condolences to the Mackey Mitchell family.
– Ryan Walsh
Ross & Baruzzini
---
No one in the past fifty years has had a greater effect on the physical campus of Washington University than Gene Mackey. As an architect, trusted advisor and colleague his contributions are immeasurable. He was the most humanistic of architects, always reminding us it was the human experience in and around buildings that matters most of all. Gene designed beautiful and functional buildings, made the work of other architects and planners better and enriched the lives of everyone he touched.
– Henry S. Webber
Washington University in St. Louis
---
I was saddened to hear the news of Gene Mackey's passing this week and I've been thinking of you all ever since.
I did not know Gene well, but I knew him and had tremendous respect and admiration for him and his – your – firm. The city of St. Louis, the state of Missouri, and our profession is far better for his efforts. I know that he will be missed.
Please accept our condolences for your loss and our encouragement for the days ahead at Mackey Mitchell. Keep up the good work.
– Andrew Wells
DAKE | WELLS architecture
---
Gene was an amazing and talented man! I'm thankful for the time and lessons I learned from him.
– Dre West
Washington University in St. Louis
---
Very, very sad to hear that news. I had the opportunity to work directly with him when we remodeled the common spaces in North Brookings Hall. He was a pro – that was one of the most fun projects I have worked on at WashU. Obviously he was one of our most important partners in Residential Life here at Washington University as well.
– Robert M. Wild
Washington University in St. Louis
---
So very sad. I feel very fortunate to have known Gene and worked closely with him. What a wonderful contribution he made to all his friends, colleagues and community. Still so strong and caring all the way through this journey.
Let us know if there is anything we can do to support you and your colleagues in this time of transition.
– Buzz Yudell
moore ruble yudell
---
I was saddened to hear of Gene's passing. While I never had the opportunity to work with him directly, I was fortunate to be on a SCUP tour he led of Wash U South 40 project. His passion for the profession and for higher education was apparent and one of the more memorable aspects of the conference. Even in that brief interaction his enthusiasm was contagious and something I hope to emulate in my own career.
My deepest condolences.
– Zachary E. Zettler
GBBN Architects, Inc.
---
Please visit our social media pages to see more heartfelt comments and memories about Gene: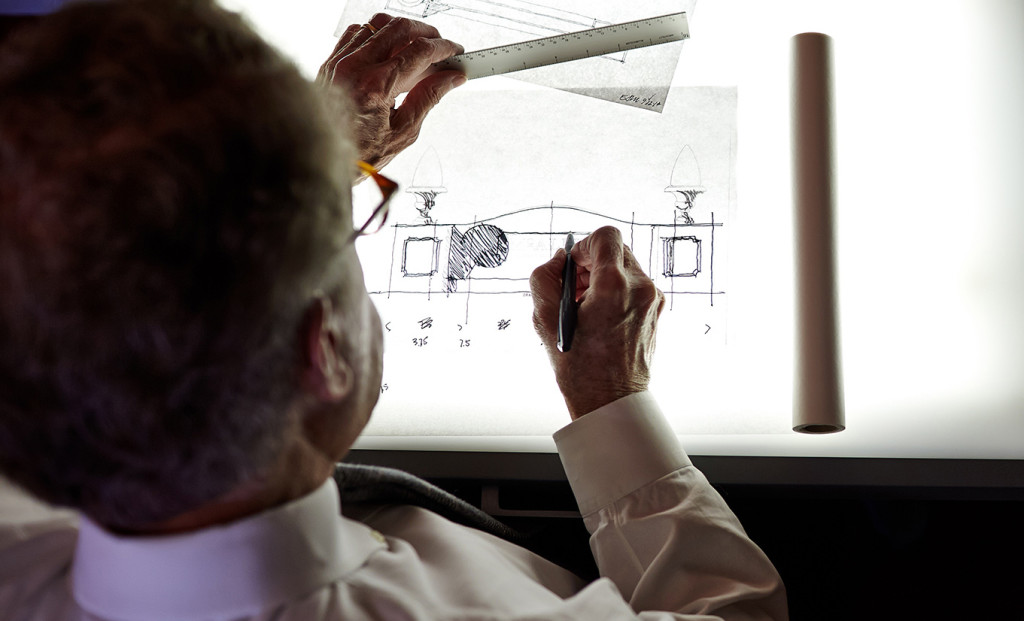 We wish to thank the entire team at creative firm Almanac for their swift assistance with our tribute to Gene.
For revisions to this page, please contact Tom Peterson: tom_p@mackeymitchell.com.
Save
Save