Our climate is changing. Now more than ever, architects must do our part to overcome the broad and complex environmental challenges before us. As licensed professionals, we are charged with ensuring the health, safety, and welfare of all occupants in the places we, with our clients, conceive and construct. As designers, our understanding of what it takes to be good stewards of our planet is paramount. Doing our part to reverse the damage done will require us to continue to do the basics within our control, such as knowing which materials are renewable, minimizing waste of natural resources, and planning for maximum energy efficiency. We also need to continually ask ourselves "what more do we need to do?" Tomorrow's buildings must perform exponentially better than the buildings of even the recent past. In short, these challenges require dedicated leadership to propel us towards advancing our role as vigilant stewards of the environment. To help Mackey Mitchell Architects on this mission, we are thrilled to welcome our Sustainable Design Coordinator, Chris Wilson. In this staff Q&A, we dive into Chris's background and learn about how his interest in natural systems led him to this specialized role at a critical moment for sustainable design.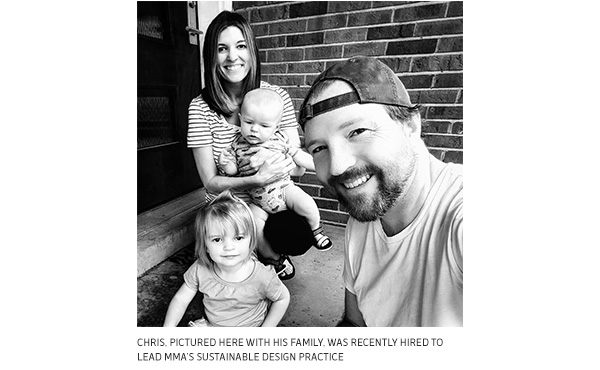 When did your interest in architecture and sustainable design begin and what inspired it?
My parents instilled in me an understanding of the mechanisms behind natural systems from a young age. Throughout my childhood, our family would visit my father's office at the Missouri Department of Conservation headquarters. The office complex consisted of timber-framed buildings connected by floating glass bridges, framing large open courtyards, each representing various biomes of Missouri. Green roofs, rain gardens and accessible walking paths connected the buildings and site. We would often walk the site, learning from my parent's extensive knowledge of flora and fauna, while acutely aware of the landscape design and building architecture. Because of how much time I spent there as a child, it was always in the back of my mind, and absolutely an inspiration through my early design education. Interestingly, I recently discovered that Mackey Mitchell was involved in the design of this building back in 1976! Later in life, this inspiration and interest in natural systems, construction, and design, influenced my decision to attend the University of Missouri, where I earned a Bachelor of Science in Environmental Design and followed that with a Master of Architecture degree from the University of Michigan's School of Architectural and Urban Design. During my formal design education and practice, I find myself looking back to these early design influences and environmental lessons from my parents to inform projects.
How did your interest in sustainability shape your career and lead you to where you are today?
Early in my career, I often sought out projects with a unique technical or sustainable purpose. One such project was the development of what came to be known as the Portable Light Project. It was a small-scale illustration of what renewable power, design, and technology may be able to provide the planet on a broader scale. This was a fascinating project that opened my eyes to the potential of design as a means to enable underrepresented communities in the developing world. This project, and later building and master planning projects, really inspired and increased my interest in developing unique solutions to improve social and environmental conditions. Years later, I brought these lessons to a new role as a Sustainable Design and Construction Manager for the University of Missouri, and now at Mackey Mitchell, where I'm excited to have the opportunity to continue to deliver unique solutions for a wide array of projects around the country.
What do you find most interesting or exciting about the work that you do?
I find excitement in the process of discovery. There are many intersections in the traditional design process where sustainable design solutions can be found, such as the intersection of advocacy and technology.  Discovering ways to solve those longstanding problems through these intersections is very interesting. For example, the number of design tools available to provide building life-cycle cost and carbon cost has increased significantly over the last few years. These tools provide designers and clients with a broader view of potential sustainable benefit, while managing the cost of construction for a building project. Utilizing these tools appropriately on projects that include varying degrees of existing construction reveals the added benefit or cost to a project that may otherwise only consider first-cost and operational-cost.
What is your hope for the future of sustainable design?
My hope is that soon, sustainable practices currently promoted through design guidelines, institutional standards, and building codes will become so engrained in our field's collective process, that building occupants and the general public regard the long-term economic, health, and environmental benefits as a given.
"Long before we ever knew we were headed for a global pandemic, that this would be the busiest hurricane season on record (30!), or that 49,149 wildfires would burn 8,719,721 acres this year (double the acreage burned in the previous season) …  MMA understood the imperative for architects to be environmental leaders. We also knew success would require the efforts of exceptional and dedicated people, which we are fortunate to have in abundance in our ranks. It is with great enthusiasm and excitement we welcome our Sustainable Design Coordinator, Chris Wilson whose focused efforts have already helped us advance our environmental initiatives. Welcome aboard Chris!"

– Steve Emer, MMA President