Mackey Mitchell colleagues, friends and family gathered last Thursday evening at the Missouri Botanical Garden to honor Dan S. Mitchell, FAIA, as he received the AIA (American Institute of Architects) St. Louis Chapter Gold Honor Award.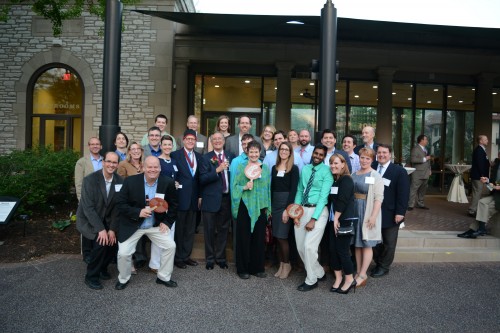 Established in 1983, the award recognizes an architect of high character whose years of distinguished service inspires others. Dan is the latest recipient in a list of only 15 individuals to receive this award; Gene Mackey received the award in 2008.
Dan was selected for this honor in appreciation of his service as an advocate for the architectural profession, working to protect the health, safety and welfare of the public through Missouri state legislation and regulations. He has served as president of AIA St. Louis and AIA Missouri, and was honored in 1997 with the AIA Missouri Distinguished Service Award.  The Gold Honor Award acknowledges years of exemplary dedication and contributions to the architectural community. We're all very proud of Dan Mitchell!