2020 was a year that brought us all unforeseen challenges and interesting predicaments (ie. the great toilet paper shortage) that required extra creativity, including with our own operations. Not only was it important to rethink how we work, but also how we continue to build relationships within the firm, how we learn from each other, and very importantly, how we celebrate! In this blog post, we recap a year-end celebration like no other that was filled with laughs, awards, and promotions.
Celebrating in the age of COVID-19
For most of the year, the majority of our staff worked virtually and some never set foot back in our office after initially leaving in March (the ones who did, got to enjoy our clever safety signage). And as with many workplaces, the year-end holiday party is a celebration to look forward to – it's the culmination of the year's hard work, filled with eating, dancing, toasting to accomplishments, and building relationships. As the party loomed on the horizon, our staff rolled up their sleeves and put their heads together to plan a virtual version that, just like every year, would be something we remember forever.
Any good party requires good food, and this was no exception!  We filled boxes with goodies that each employee received before the party, which included delicious treats, candy, and ingredients to create their own charcuterie boards to have during the party. One of the things we all miss about being in the office is hearing the stories about projects that we might not be involved with, and also learning more about our co-workers through the process. To help substitute for those moments of camaraderie, this year everyone received a "major award" related to a fun anecdote about them that was included in their packages – everything from "Most Likely to Take Drum Solo Breaks Between Zooms" and "Best Project Interview From the Shower".  One by one, staff revealed their award and we all shared good laughs as we heard stories behind the awards – ones that we might have missed otherwise.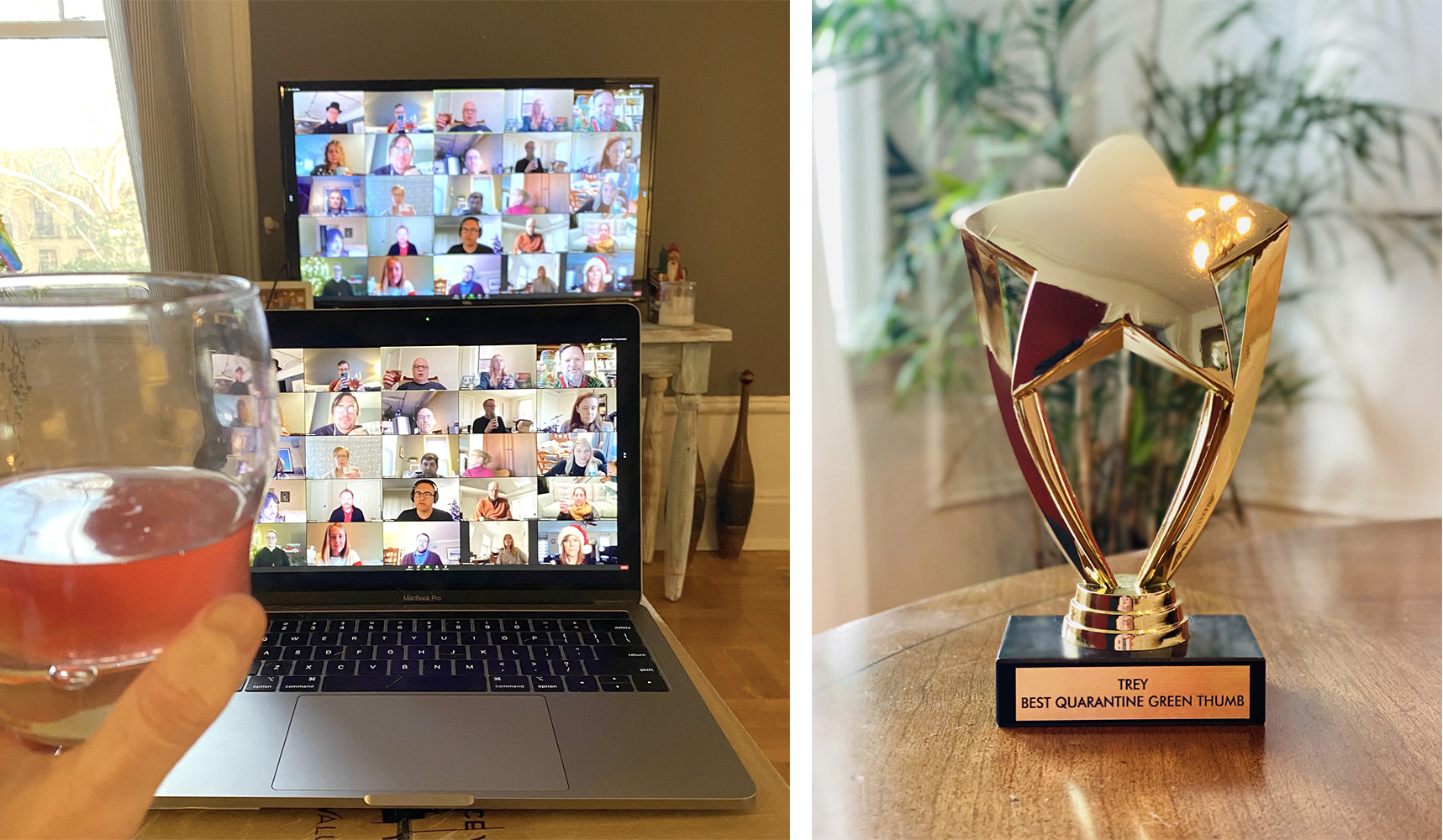 The party closed with an uplifting video including every MMA employee to help us all remember that things are looking up and we WILL see each other again in 2021!
MMA Staff Receive Promotions
Our holiday party traditionally includes staff promotions and we felt it was important to continue that tradition!  We are proud to announce the following promotions:
Jake Banton was promoted to Senior Associate! Jake joined our St. Louis office right after graduation from the University of Kansas in 2015, and we have been excited to watch his growth, both as an Architect and in his many community-focused endeavors outside of MMA. Jake spent most of this year working from his home in the West End neighborhood of St. Louis, but started spending a couple days in the office just before we closed again at Thanksgiving, earning him the "Shortest Return to Work Ever" award.
Trey Bartsch was promoted to Associate! Trey joined us in 2018 and serves as our Marketing Coordinator, playing a key role in project pursuits, visual communications and marketing initiatives. Trey's experience in architectural marketing and his calm and steady demeanor are an invaluable asset to MMA.
Matt McKillip was promoted to Associate! Matt is a Project Architect (virtually) working in our Lawrence office since 2018.  With his background in construction and fabrication, Matt's technical expertise won him "Most Likely to Become the Next Tom Moore", a high compliment since Tom is renowned as our technical guru!
Shelli Ulmer was promoted to Senior Associate! Shelli brings over 20 years of project management experience and established client relationships to MMA.  She joined our Lawrence office in March 2020, just days before our offices were closed. Though some of us got to meet her in person, she won the "Best Project Manager We've Never Met" award!

Congratulations to Jake, Trey, Matt, and Shelli on your promotions! While our 2020 Holiday Party was memorable, we are looking forward to forging ahead into a new year with new opportunities.