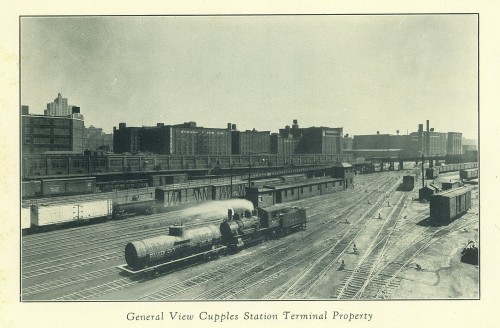 As part of the sustainability degree program of University College, Washington University, architect Jeff Brambila held a class in Mackey Mitchell's new office space at Cupples 9 to talk about the Cupples Station Historic District.
Cupples 9, originally designed by Eames and Young, was completed in 1895. The building was considered to be the main prototype for many of the succeeding buildings in the complex and was praised in scientific and architectural journals of the time for its design and functionality. 
In addition to being a case study in the use of historic tax credits, the renovation is also recognized for its excellence in sustainability. Both the building as a whole, and Mackey Mitchell's office as an individual interior space were LEED certified, an accomplishment not easily attained in a historic preservation project. Students commented that this was one of the best classes of the semester.
Brief History:
Cupples #9 is one of ten buildings that comprise the Cupples Station Historic District.  Those ten buildings are what remain of a group of manufacturing and warehouse buildings that were conceived by Robert S. Brookings when he was vice president of the Samuel Cupples Woodenware Company.  The buildings were situated to take advantage of the Terminal Railroad lines, many of which had direct train connections running through the buildings.  This concept was considered to be revolutionary since it consolidated what had previously been a scattered and inefficient distribution system for goods and services. The entire complex was built on the site of the former Chouteau's Pond which had been drained after the cholera epidemic of 1849. The site was purchased by the Missouri Pacific Railway in 1851 and eventually became part of the major train route running through downtown St. Louis, connecting Eads Bridge to all points east and west.