Looking for authenticity in her work and lifestyle, Mackey Mitchell architect and designer Gwynn Zivic constantly seeks inspiration through artistic activities. She's worked with a New Zealand conservation group to design and build penguin refuge houses, spent evenings "Drawing in the Galleries" at the Saint Louis Art Museum, and is learning to play the mandolin. Now she's designing award-winning buildings for academic institutions of higher learning across the country at one of the region's top architectural firms.
With signage, wall graphics, custom chandeliers, and furniture designs in her growing portfolio, Gwynn's interests have recently turned to creating kiln-formed glass objects. To expand her knowledge in that realm, she recently earned a scholarship for a two-week glass art program at Pilchuck Glass School, established by Dale Chihuly, one of the most famous glass artists in modern history.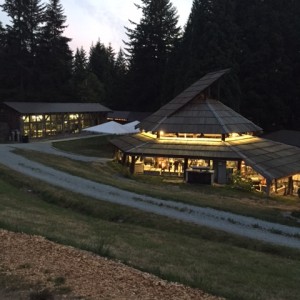 For two weeks,Gwynn joined other artists in foothills of the Cascade Mountains outside Seattle, engaging in a workshop at one of the most comprehensive educational centers in the world for glass artists. The school's educational philosophy flows from Chihuly's original idea of "artists teaching artists." Since 1971, the program has offered a learning experience described as "unrivaled in its intensity, quality of instruction, and concentration of artistic talent."
"Working with glass is meditative," says Gwynn, "the polar opposite of work I'm required to do as an architect. Engaging in the creation of kiln-formed glass allows me to be creative without any preconceived notions, where I become absorbed in the process of cutting free-hand and getting lost in the play of composition." Her work isn't measured, planned or over-thought, resulting in objects that are simple, yet captivating.
As she continues to explore new ways to express her artistic side, these experiences strengthen and enhance her skills as an architect through the continual creative process that involves a meaningful interpretation of experience, actions, and insights.