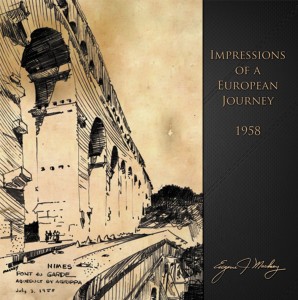 Based on a recently published book by architect Gene Mackey, Maryville University will present  the works and drawings of the elder Eugene J. Mackey, Jr. in an upcoming exhibition honoring a father and son's six-week architectural experience on their 1958 European adventure.
The elder Mackey was a highly-regarded architect, Wash U professor, and civic-minded St. Louisan. He designed such structures as the Climatron at the Missouri Botanical Garden, and the WWII Memorial Structure in downtown St. Louis. On view November 19 through December 19, 2014 at the Morton J. May Gallery, the exhibition features architectural sketches that capture the power and magic of observation drawing.
Gene Mackey lll, founder and principal of Mackey Mitchell Architects is a graduate of Washington University in St. Louis and Harvard University. He has received numerous awards and recognitions for his architectural and community work.  Together, Gene and his father have had a significant impact on the architecture of  St. Louis.