Mackey Mitchell Architects celebrated a 2022 filled with change, growth, and momentum at The Leona in St. Louis in December. Over delicious food and drinks, the hours seemed to fly by talking to new and old colleagues, and watching our cheery and at times uproarious presentation featuring highlights from the past year and announcing staff promotions. We ended the presentation with a tribute to Tom Moore, a legendary architect who is retiring after 32 years with the firm! Tom has been instrumental to Mackey Mitchell's success, and his talent, mentorship, and humor will be dearly missed.
We celebrated the new staff that joined all of our offices this past year, including:
Chris Perron joined our St. Louis office in March bringing a depth of experience in project management and architecture across several market sectors ranging from senior living to hospitality and retail to medical spaces. Outside the office, he enjoys using his creative mind and skillset through woodworking and home remodeling.
Paola Badea started in the St. Louis office in May. Paola is most passionate about design that is informed by deeply understanding the communities and people who use them. She is an associate member of the AIA where she is very active in the Justice, Equity, Diversity, and Inclusion (J.E.D.I.) Committee, Community Engagement Committee, and Women in Architecture Forum.
Matty Lares joined our Lawrence office in August. Matty is passionate about how architecture directly and indirectly influences our health and how the built environment leads to life-long health related choices, and is currently enrolled in the Master of Public Health program at New York University.
Alex Harner joined our St. Louis office in September. What Alex most enjoys about architecture is design and detailing, and discovering where they intersect to create meaningful places.  He also enjoys reading and drawing comics, a hobby that blends his creative interests of art and storytelling.
Geoff Vaughn started in the St. Louis office in November. With over a decade of experience, he is committed to leveraging the latest technological advancements and innovations in order to plan, design, and build a better and more sustainable environment. He is a past President for AIA St. Louis and a Director for AIA Missouri, among involvement in many AIA committees and initiatives.
Kennedy Scaggs started as a summer interior design intern and has continued to work at MMA as a part-time employee. A current interior design student at Maryville University, she has been contributing to interior components on the firm's many projects.
We had two new staff join us this month, including:
Jennifer Davis joined the St. Louis office on January 3 as an interior designer with experience in the senior living, commercial and residential sectors. She enjoys seeing the process of interior design develop–taking a project from an initial concept or inspiration and transforming that into a finish palette that excites clients.
Destiny Silva joined the Dallas office in January as our Business Development Manager focused on the Texas market.  She has over 10 years of experience in AEC marketing and business development. We are excited to have her expertise to help build relationships and facilitate new opportunities in Texas and across the country.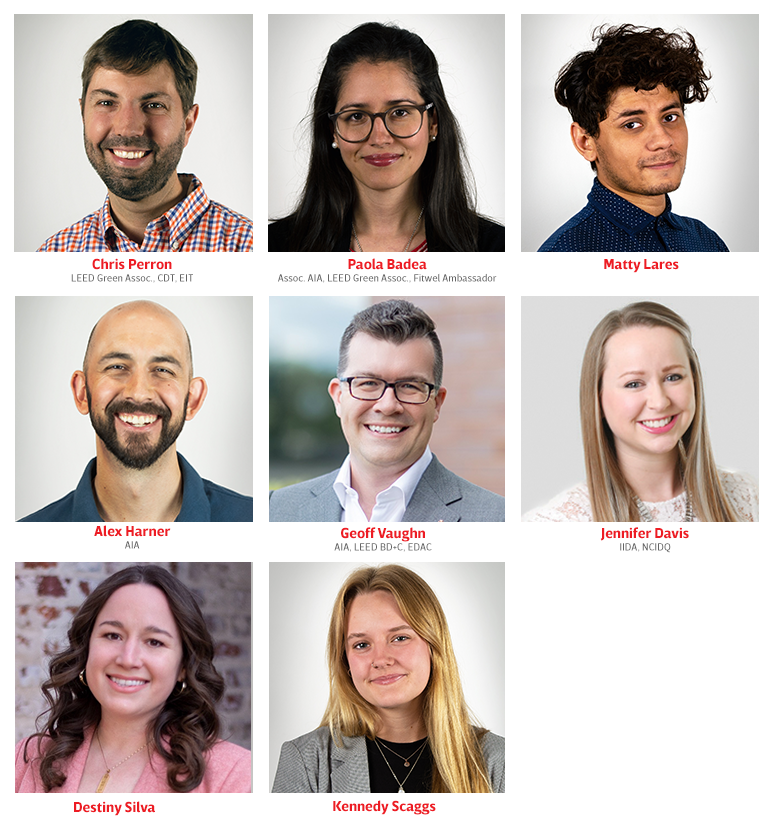 We celebrated promotions of our staff, including:
Kelly Parker was promoted to Associate! Kelly joined our Dallas office in 2019 and has been a key team member in projects like Bullock Hall at Abilene Christian University, which opened in 2021, and a new residence hall/student center currently in design at University of South Florida at Sarasota-Manatee. Kelly's multifaceted skillset has been instrumental in many of MMA's projects, from architecture to interiors and materials selections.
Chris Wilson was promoted to Associate! Chris is our Sustainable Design Coordinator and joined the firm in early 2020. Chris has been instrumental in developing our sustainability goals, including MMA's signing on to the AIA 2030 Commitment last year. His knowledge of sustainability-focused resources has wowed many of us in the office, contributing to project wins and development of sustainability strategies on multiple projects, including at the University of Oklahoma, Abilene Christian University, and University of Notre Dame.

And we celebrated professional achievements:
Christina Henning graduated from the inaugural class of AIA St. Louis's Christopher Kelley Leadership Development Program, and Jake Banton and Paola Badea were selected for the second class. Jake was also nominated to serve on the AIA Missouri Board of Directors for a 3-year term.
Through the outstanding talent and dedication of our entire staff, MMA has continued to be a proven leader in higher education work across the country in addition to winning local and regional projects in allied health, independent schools, master planning, and historic preservation. We are excited to continue the momentum in 2023!