First-Day Challenge
Imagine yourself on your first day in a completely new environment. Your parents have just dropped you off, and you find yourself in a new school where you barely know anyone. You're sitting either at the edge of your bed or at your desk, gazing out of the window or at your door. The hallway outside is lined with cement blocks, and there's an unusual absence of the typical sounds of play and activity.
You probably have a roommate, but even if you don't, a sense of isolation starts to creep in. Just a couple of rooms away, the lounge is alive with activity and laughter, but you can't hear any of it because you're Deaf. Additionally, you may feel socially awkward about stepping out of your room because you've just transitioned from elementary school.
In Deaf schools across the country, students ranging from kindergarten to 12th grade share this unique experience, and that "first-year" feeling commonly associated with new college students can manifest at any age within the Deaf campus community.
Inclusive Design
The Deaf community is met with countless challenges that can make an already complex world even more difficult to navigate, which is why designing spaces that are inclusive of their unique perspective can make a significant difference in their quality of life. In this blog, we will explore how careful design considerations can enhance the overall experience of deaf students, and how Mackey Mitchell Architects is combining decades of expertise in both student housing design and deaf education spaces design to provide them with the environments to help them reach their full potential, from where they learn to where they live.
My Journey in Deaf Education
As a Senior Associate at Mackey Mitchell, and with a profound sense of pride in my membership within the Deaf community, I've been fortunate to make meaningful contributions to our design and development of Deaf schools and campuses. My journey has given me firsthand insights into the remarkable transformation of Deaf schools and their residential aspects, dating back to my own experiences as an elementary student in a Deaf school.
Through the years, I've witnessed substantial changes, not just in the physical architecture but also in the foundational principles and perspectives that mold Deaf education and communal living.
Creating Deaf-Friendly Spaces
At MMA we begin every student housing and Deaf education design project with a commitment to fostering inclusivity and functionality. Our mission is to create environments that not only cater to the unique needs of students and staff but also nurture a profound sense of community, comfort, and empowerment.
Let's explore the ever-evolving landscape of Deaf education and look specifically into the intricate world of "Deaf Space" design. Our approach encompasses addressing dynamics of human ability – physical, social, cognitive, and sensory – when adapting room layouts, defining building transitions and navigation, and accommodating various age groups within the diverse Deaf student population.
Central to our Deaf design philosophy is a relentless emphasis on visual sightlines and wayfinding. We recognize that Deaf students heavily rely on visual communication, including sign language and expressive facial cues. At Maryland School for the Deaf, our design prioritizes open layouts and unobstructed sightlines, creating an environment that seamlessly facilitates easy communication and interaction among both students and staff.  The new elementary building integrates a storybook theme as a wayfinding and transitional experience from the early childhood center through the different grade level wings to different types of destinations.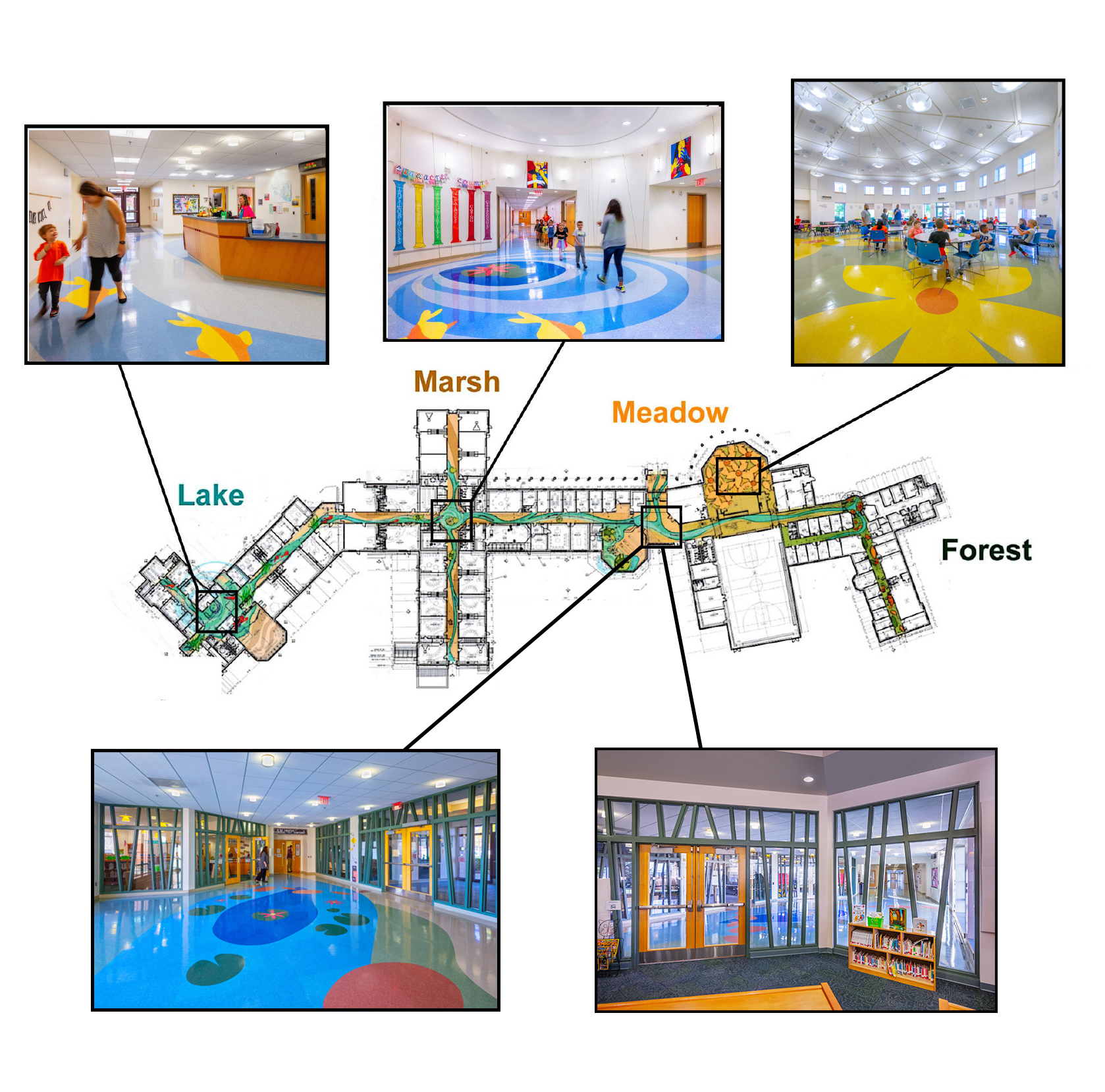 Gathering spaces are at the heart of our design in both student housing and Deaf design and planning. At the Magnolia Speech School, where the student population includes various communication disorders, we strategically wove communal spaces into the fabric of our designs to encourage socialization, community, and relationship building. Whether it takes the form of a welcoming common lounge area or an inviting "treehouse-in-the-woods" library, our designs are meticulously crafted to enhance the social experience, making it not just a place of learning, but a place to thrive.

In a recent transformative project at the Kentucky School for the Deaf, we took a traditional, institutional-style building and breathed new life into it, creating a vibrant and inclusive living and learning space tailored to the unique needs of Deaf students. The new design introduced open floor plans, ushered in improved lighting, and seamlessly integrated an academic and a residential wing. The result was an environment that not only encouraged social interaction but also ignited a sense of community engagement that was palpable.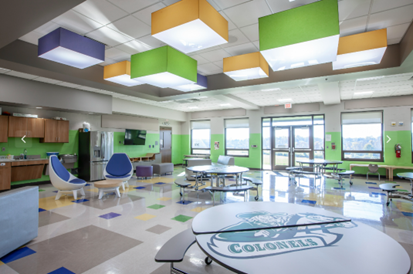 A simple refresh can be a cost-effective option for phasing out institutional design aesthetics. At the Kansas School for the Deaf, we were able to create a more vibrant welcoming environment for students and staff through inexpensive design upgrades.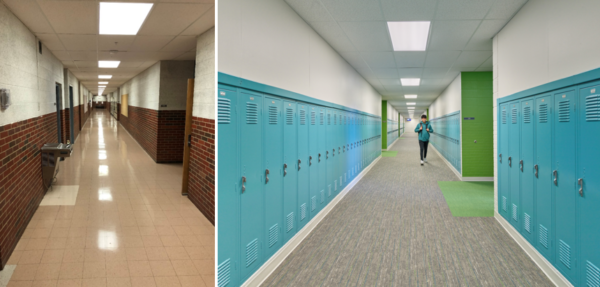 At Delaware School for the Deaf, we collaborated closely with Deaf educators and stakeholders to design a state-of-the-art campus and residence hall tailored for Deaf K-12 students. This undertaking demanded meticulous consideration of the distinctive requirements of students at all grade levels, encompassing both their social and educational needs. While the academic neighborhoods not only functioned flawlessly with one another but also captivated with its visual appeal, the central lounge and pod wings in the residence hall fostered an atmosphere conducive to social and personal growth.

The Deaf school environment spans a wide range of ages and grade levels, necessitating meticulous planning for housing and learning spaces. Drawing from our experience designing social spaces for first-year college students, we propose applying similar principles to Deaf residence halls, emphasizing spatial and visual awareness. Traditional residence hall layouts at numerous Deaf schools are outdated; innovative designs with rooms surrounding a central lounge facilitate socialization. Creating inviting living spaces is essential, with minor adjustments like introducing curved islands in kitchens to foster inclusivity.
Designing for a visually oriented population in large communal spaces requires a nuanced approach. Open seating arrangements are vital, but private seating booths or alcoves should be added to provide privacy for Deaf individuals' conversations and focused tasks like homework. Controlled lighting and visual wayfinding elements enhance accessibility.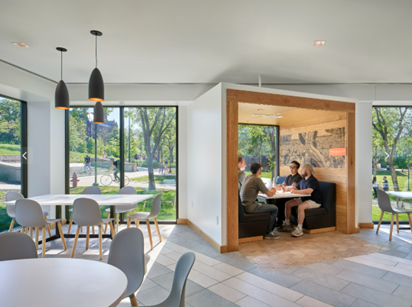 Designing residence halls on Deaf campuses should take into account the needs of Deaf staff members, offering advantages to both residents and staff alike. Visual awareness among staff members is crucial, especially during overnight shifts where placing them within sight of each other enhances safety and communication efficiency without requiring them to leave their posts.
Learn More!
Our approach thrives on communication and a continuous exchange of insights and feedback from students, educators, staff, and the community. We comprehend that each project is a unique canvas, and we embrace collaborative efforts to tailor our designs to the specific needs and aspirations of each school and its dynamic student body.
To learn more about our approach and expertise in student housing design and the design and planning of Deaf schools and campuses please reach out to us.