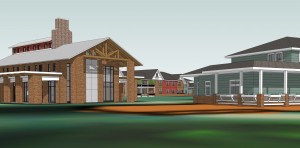 Governor's State University (GSU),  a public university in Chicago's south suburban area, is planning to nearly double their current student enrollment of approximately 7,750 over the next decade. In doing so, GSU will transition from a two-year commuter campus to a full four-year curriculum. To support this change, plans are underway to establish on-campus student housing with a dining facility, convenience store, bookstore and other student services.
Mackey Mitchell, teamed with FGM Architects, was selected to further develop the plan for the new residential community and implement Phase One, which will include 250-300 beds, a commons pavilion (comprised of a main lounge, small C-store, information center and offices), parking and outdoor recreational amenities. Designed with a cottage-like aesthetic, the residential buildings will have porches and stepped roof profiles with gabled accents. The commons pavilion is intended to be a welcoming point of the entry for residents and students, and will anchor one end of a new pedestrian walk connecting the residential village to the current academic complex. The current concept plan outlines future phases that will ultimately house up to 1200 beds with residential buildings arranged to define a series of neighborhoods. Each neighborhood is located around an existing pond (part of a natural wetlands located just west of the academic portion of campus) that will serve as the development's social and recreational heart.  This proposed site organization was inspired by a defining quote from GSU's President Elaine P. Maimon, who likened the sense of place at Governor's State to a public square, which she described as "an inclusive community…a place where all are welcomed; where all opinions are respected; where a shared vision of what the world might be can be expressed – and possibly, realized."
Anticipated start of construction for Phase One is December 2012.