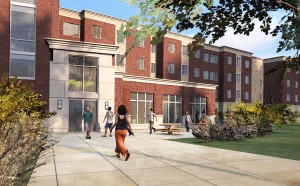 Eastern Kentucky University sold $21 million in bonds to fund the first residence hall built on campus in 40 years.  "We were looking for a signature building," said James Street, vice president of capital planning and facilities management. "We're trying to bring a more modern look to the campus and get away from the halls built in the 1960s."
Mackey Mitchell designed the 259-bed, 86,400SF residence hall for upperclassmen. The $17 million, LEED-Gold project is in keeping with the university's direction in environmental stewardship and economic efficiency.
An  "iron-chef" kitchen on the first floor encourages interaction, along with a central pavilion which provides a welcoming environment for guests and a place for residents to socialize in their community living room.  Mackey Mitchell's project team includes Dan Mitchell, Steve Emer, Gwynn Zivic, Matthew Roeder, and Avik Guha. Ross Tarrant Architects served as Architect-of-Record.