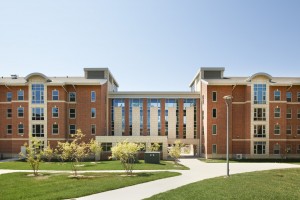 The University of Northern Iowa has consistently been named one of the "Best in the Midwest" in the Princeton Review Best 351 College Rankings guide. Designed by Mackey Mitchell with Invision Architects as Architect-of-Record, UNI's recently completed Panther Village offers apartment-style living for 204 students with the advantages and conveniences of on-campus living. 
"Panther Village is convenient, safe, comfortable, sustainable and beautiful," said Pat Beck, assistant director of residence marketing. "Living on campus adds to a student's sense of place and loyalty to UNI. Students who have a positive experience in their on-campus community are more likely to become loyal alumni and seek ways to stay connected to the University."
In addition to fully equipped kitchens, private bedrooms, and furnished living rooms, sustainability features include in-room recycling, automated motorized shades, independent temperature controls and a green roof.  Project team members were Kyle Wagner and Sara Holt.