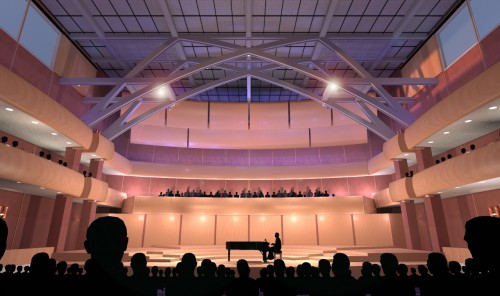 Mackey Mitchell architects John Burse and Clint Smith were engaged to provide a planning study to define the program, set a budget range, and determine possible sites for a new performing arts center at the University of Evansville.
After an interactive programming work session using an imaginative, collaborative process, it was determined that the University requires a facility to seat a minimum of of 1,000 people. Support spaces would include a lobby that doubles as an art gallery and event space, rehearsal spaces, two multipurpose classrooms, nine teaching studios, and typcial back-of-house facilities including a green room, dressing rooms, storage space and shop.
Mackey Mitchell, working with Hafer Associates, was the architect for the Ridgway Student Center, the Schroeder Family Business School, and the university's new master plan.