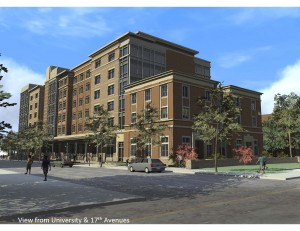 The University of Minnesota is following the trend toward providing sustainable student housing options. When completed in August, 2013, the Fourth Street Student Residence Hall will be the first green residence hall on campus.  In addition to its green roof and storm water collection, the building features energy-saving appliances and sensor lighting. 
Educating its residents also plays a big part in the proposed yearly cost-savings of around $186,000. The university plans to implement a green resident certification program which will guide students toward saving energy and encourage them to calculate their carbon footprints. Pizza parties will be awarded to the students on floors conserving the most energy.  
Working with local Architect-of-Record SJA Architects, the new $60 million residence hall will contain 650 beds along with a 450-seat, fresh-food concept dining facility in an open-prep format. Mackey's project team includes Jordan Gatewood, and Andy Noll.