On Saturday, August 10th, it was officially announced that Principal Steve Emer, AIA, LEED AP, was elected president of Mackey Mitchell Architects. Emer is the first elected president in the firm's 45-year history. In 1968, Gene Mackey III, FAIA founded the firm and served as president until 2001. In 2002, Dan Mitchell, FAIA, was named president and chief executive officer, with Gene Mackey serving as chairman.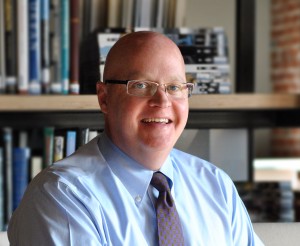 To prepare for the firm's future and Dan Mitchell's recent ownership transition, the company elected five shareholders to serve as its Board of Directors, including architects Marcus Adrian, John Burse, Steve Emer, and Thomas Moore. Dan Mitchell will continue to serve as member of the Board.
"We've  structured the company to be in position for new leadership," says Mitchell. "We want to make sure we have a strong succession plan that will maintain the firm's strengths and core values in the long term."  Emer's unanimous election as president reflects the collaborative spirit that exists among all the firm's principals.
Steve graduated with a Bachelor of Arts in Architecture at Washington University in St. Louis, and received his Master of Architecture from Rice University.  He joined Mackey Mitchell in 1996 and became a principal in 2008.  Throughout his tenure at Mackey Mitchell Architects, Steve has managed design efforts on projects including high-end residences, country clubs, student housing, student centers and dining facilities. He has worked on projects for Washington University in St. Louis; Webster University; Westminster College; Truman State University; McKendree University; Eastern Kentucky University; Ohio Wesleyan University; Texas Tech University; and Savannah College of Art & Design.
A graduate of the Leadership St. Louis program, Steve has a keen interest in history and has fulfilled two terms as Commissioner of the Kirkwood Landmarks Board and as an advisor to the Renovation Committee at the historic Gothic Holy Trinity Church in St. Louis's Hyde Park neighborhood.  According to Dan Mitchell, "Steve exudes a quiet confidence that clients respond to – he's always curious, interested, and engaged.  He possesses an all-encompassing range of skills, which is why he was an obvious choice to take on the challenges of president."