Gwynn Zivic and Lea McRoberts flew to Chicago to attend America's largest design exposition and conference for commercial interiors, with more than 700 exhibitors at the 2013 Neocon Conference.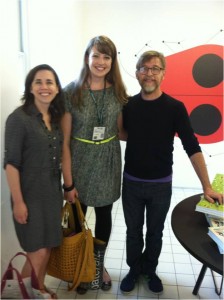 They learned about the latest color trends, furniture with sound absorbing properties, and the popularity of hexagons in carpeting and fabrics. Privacy in the open office was addressed with furniture featuring high-back chairs and some with "hoods."  Counter-height work stations are also big.
They also had an opportunity to meet well-known designer Todd Oldham, known for his fashion lines, interior design, books and television appearances.