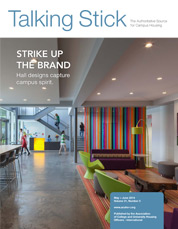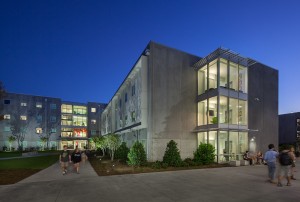 Lots of activity is planned for the 2014 ACUHO-I (Association for College and University Housing Officers International) conference in Washington D.C., from June 28 through July 1.  First, we're delighted that the Talking Stick featured the new Montgomery House residence hall at the Savannah College of Art and Design on the cover and in their story on "Brand Management."  Mackey Mitchell Architects President Steve Emer, and Steve Street of Clayco Construction Company, Inc. will present the story of SCAD's Montgomery House as a Corporate Session at the conference titled "Creating a Vibrant Student District for Artful Living."  The project  was designed by Mackey Mitchell Architects in association with Dawson Architects and SCAD Design Group.
ACUHO-I's communications director, James A. Baumann, provides an insightful review of the eight-year-long 21st Century Project in The Future is Now. He looks at the three universities who completed projects guided by the 21st Century Project tenets of community, flexibility, technology, sustainability and innovation. One of the three campuses chosen for this undertaking was Indiana University where Mackey Mitchell Architects (in association with MSKTD Architects) designed the Rose Avenue Residence Hall.
In addition, Jordan Gatewood, AIA, who was involved early on in the 21st Century Project, will be joining Paul Riel and Julie Payne-Kirchmeier from Northwestern University and Greg Wachalski and Daniel Durack of Brailsford & Dunlavey to present the learning session titled "Investing in the Student Life Experience:  the Northwestern University Residential Services Master Plan."
If you're planning to attend the conference, stop by booth #1303 to meet our team and sign up to win a STARS College Scholarship which will be awarded to a student who wants to attend the leadership training program at next year's ACUHO-I conference. There's plenty to talk about his year, so we hope you'll make it a point to stop by and see us! Stay tuned for specific dates and times for upcoming presentations.
.