Often considered a luxury, custom lighting can be a tricky item to retain and properly execute on a project. But it can also become a standout feature. Like a stunning piece of jewelry on a well-tailored suit, it can become an accessory to an already well-designed building.
When the Boy Scouts of America decided to build a new mess hall at one of their premier scouting facilities, S Bar F Scout Ranch, they wanted a memorable place for scouts and visitors alike. When it came to lighting the open, large-scale 7,450sf room, research revealed that standard lighting fixtures were too generic and didn't provide the scale or finish needed for this rustic dining hall for 425 scouts. So we turned to Lighting Associates, Inc. for the manufacture of our custom-designed lighting fixtures.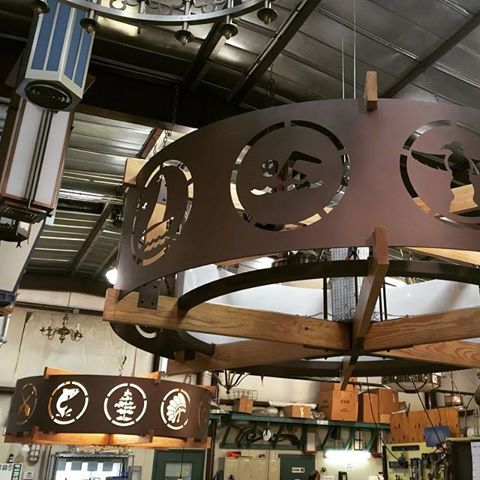 The existing camp structures at S Bar F Ranch already had the kinds of materials typically associated with a Scout camp – rough-hewn wood, natural stone, and raw metal. For design continuity, the new mess hall incorporates Douglas fir and steel. But the building's scale also needed something large, yet simple that would further define the space as well as communicate the Scouts' mission. What better to represent the Scouts than the classic badges earned through activities that take place at the Ranch? Icons representing camping, canoeing, small boat sailing, swimming, first aid, fishing, forestry, Indian lore, lifesaving, orienteering, pioneering, and wood carving are all included on a series of custom-designed 8-foot diameter pendant lights with laser-cut steel shades. Images were stylized to not only simplify the design but also to create more dramatic impact with the contrasting steel and light emitted from within.
The idea for these custom lights was inspired by my own scouting experience as a young girl. I loved collecting those small embroidered circles that represented fun activities and lessons learned – which ended up representing big life skills. Now, a walk in the forest is more than just a walk. I can identify trees and plants and see the diversity of life in different climates and terrain. Skills in sewing, cooking, photography, first aid and animal husbandry contributed to who I am today. Over the years, new badges and activities have been created, even one for architecture! Today as an architect, I find great satisfaction in knowing that these icons of the Scouting world which meant so much to me, will be prominently featured in a place where rich memories and life skills are cultivated.