How can a flea market become a sustainable campus tradition? As summer's grip wanes, so begins the annual migration of returning students, marking the revival of campus vitality. For the campus planner, it presents a flurry of arriving families, moving carts, improvised parking, and the Sherpa-like schlepping of stuff into and out of residence halls. Creating a periodic surge in the waste stream, this ritual often involves extra dumpsters for things cast aside.
To break this wasteful cycle, Indiana University has engaged in an innovative partnership, transforming a throwaway culture with the Hoosier to Hoosier (H2H) program, which diverts reusable items from the landfill. Items collected at spring semester's end are stored, then resold to students and community members at the beginning of fall semester. At this campus flea market, shoppers can find reasonably priced items to use in their temporary digs: couches, dishes, pots and pans, lamps, fans, futons, electronics, office chairs, carpet, bedding, books, and lots of clothing, greatly reducing resource consumption, and keeping more money in their pockets!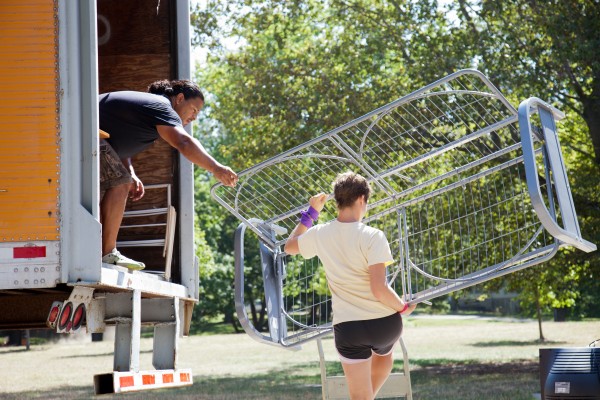 Held annually in late August, proceeds from this triple-bottom-line enterprise are donated to local sustainability efforts and charities. H2H is a partnership among the City of Bloomington Commission on Sustainability, Indiana University Office of Sustainability, and Cutters Soccer Club. After years of successful sales, H2H has become an established tradition on the Indiana University campus with impressive accomplishments. Here are some of the latest stats:
646 volunteer shifts were staffed for 1,815 hours for the 2015.
On this year's sale day, 3,070 shoppers came through the doors.
An estimated 45 tons of reusable items were diverted from the landfill
An estimated grand total of 217 tons have been re-used since H2H's beginning
Interested in starting your own program, or finding out more about other campus collection and reuse programs? Click here!