Each client comes to us with certain goals in mind.  The University of Illinois Urbana-Champaign was no different, bringing with them the desire to celebrate the use of recycled and reclaimed materials in their new residence hall. We accomplished this goal by incorporating several environmentally sensitive materials, including carpet made with reclaimed yarns from the manufacturing process, countertops incorporating crushed glass bottles, recycled milk jugs and other plastics, as well as reclaimed wood veneer.
The wood veneer proved to be an interesting research project, taking us back to the early logging days of the east coast.
Recovered from the bottom of Moosehead Lake, which feeds the Kennebec River, these logs had sunken during log drives that had occurred between the early 1600s and late 1800s.  This was verified by the different cuts left by the varying logging methods of the time.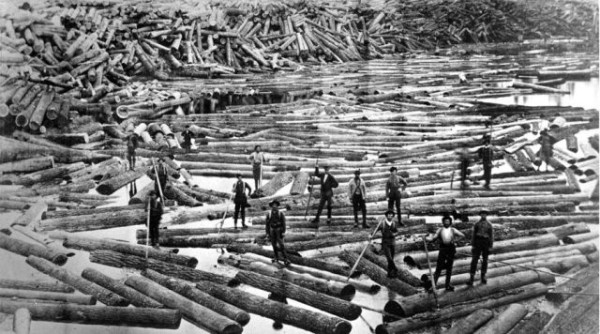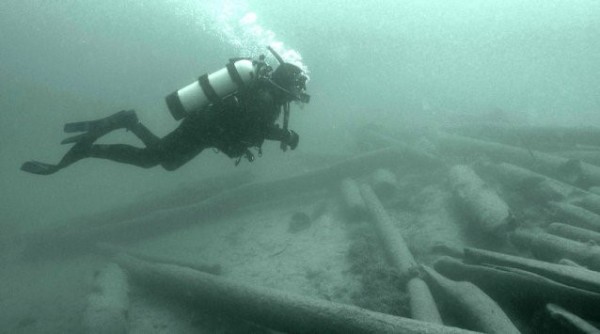 At one point during this time period, the lake had four sawmills operating on the southern end. Loggers would cut down the trees surrounding the lake, haul the trunks into the water with horses or oxen where nimble-footed men called "Log Drivers" or "River Pigs" would guide the logs downstream, using pike poles to keep them from jamming or running ashore. During these log drives, many logs were lost or abandoned during inclement weather.  Resting undisturbed for centuries, these logs were preserved by fresh Maine water, protecting them from direct sunlight, pests, and oxygen; key ingredients for decay. These sunken logs are referred to as "deadheads." According to the founder of an antique wood flooring company, the Goodwin Company,  George Goodwin,  "deadhead" logs are named because the small end that floats looks like a head floating in the water.
Today the logs are recovered by underwater loggers with the use of sonar and boats equipped with long armed claws. Found in deep water, these logs are pulled to a holding area in the lake near the dock until they were ready to be put on a truck for processing to avoid unnecessary decay from air exposure. Once plucked from the lake using a long-armed claw, logs are sent to the saw mill for processing into veneers and other products giving life and energy to projects much like our own Wassaja Hall.