Lexington Glassworks is a non-traditional, artisanal space in the middle of Asheville, North Carolina. Friends and business partners Billy and Geoff met in an introductory glass blowing class in college and the rest, as they say, is history.
Mackey Mitchell Architects: Lexington Glassworks- Asheville, North Carolina from Mackey Mitchell Architects on Vimeo.
The two are passionate about taking old-world traditional methods of blowing glass and mixing them with new techniques and unexpected color combinations. What sets Lexington apart from other studios is that there are no barriers between them and their customers. Where potential buyers would typically have to purchase items through a gallery, Billy and Geoff's customers can take advantage of their custom-built space to watch them work, crafting elaborate pieces from start to finish.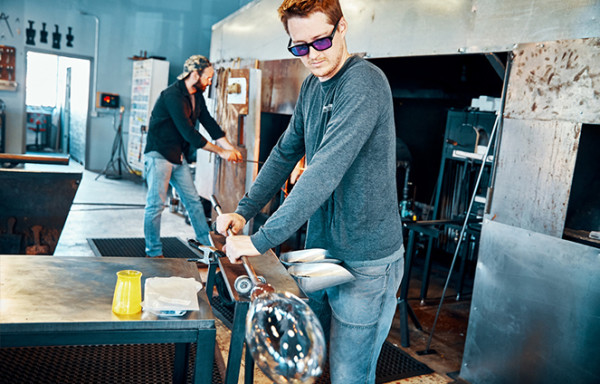 While the team is enjoying incredible success in their hybrid studio-gallery, they weren't always sure they'd get to where they are now. "It was the scariest thing we had ever done," Billy said, "going through the process, the inspection process, and hitting bumps in the road." But when Kyle of Mackey Mitchell stepped in, they felt a sense of relief. Geoff said, "He…[talked] us down from…thinking that we couldn't possibly do what we wanted to do in our space."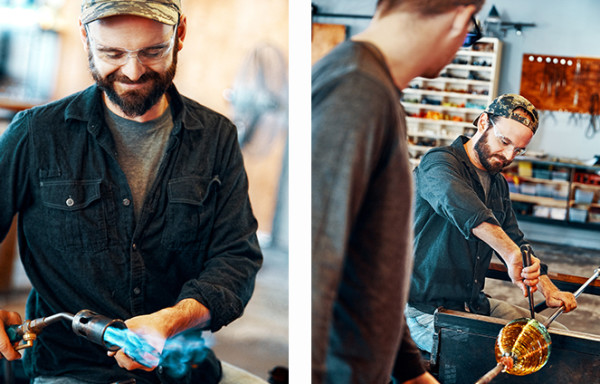 Now with custom equipment and a space that's designed to fit their needs as artists, business is booming. The team uses the space to create custom glassware, put on shows that entertain and intrigue customers, and perfect their craft. 
"We built our dream studio. There are no limitations in our work anymore."  -Billy