What was the backdrop to your college memories? If the experience was positive, meaningful relationships probably played a part. Think back to how those relationships formed now and the role those friendships played in propelling you forward.
Amongst factors influencing college life transition, the ability to feel a sense of belonging helps advance retention and academic success. The ease with which everyone connects with and within is a measure of community vitality. The shape of physical surroundings influence socialization, enabling or denying the ability to cultivate meaningful relationships with fellow students. Perhaps nowhere on campus do these conditions matter most than for first-year student housing.
Like perfectly stacked pancakes, sometimes with repetitive despair, the same plan and program on every floor, can tend to make residence halls rather stratified. This common reality's casualty is the ability to meet, interact, and build community with other residents on other floors. Beyond chance momentary encounters in a main building stair, elevator, or lobby lounge, connectivity beyond your roommate, wing, and floor is hindered. As community is made horizontally, your world is flat.
Fortunately, a growing body of work seeks to overcome the horizontal with multistory vertical spaces connecting two or more floors together. Open-to-below anyone?  Think of these spaces as the residence hall version of the ubiquitous atriums in first, student unions and now, academic buildings.
An early example of this practice is MIT's Simmons Hall. Designed by Steven Holl Architects and completed in 2002, Simmons boldly incorporated—if you can imagine this in your mind's eye—cast-in-place concrete "lungs" connecting multiple floors. As vertical spaces, these cementitious lungs intended to bring light and air deep into the building. Given concrete's transparent properties, one might wonder how well these spaces actually promote student connectivity. Since this early project there have been many more examples:
In recent years, our practice has designed a number of projects promoting interaction across levels.  A most recent example is double height floor lounges in the currently under construction, Stadium Drive Residence Halls at University of Arkansas.  In this advance timber technology hall, key programmatic support spaces and stairs are set alongside the lounges to further activate a key social node. Views and vistas between levels will foster interaction.
To shed light on different strategies, at ACUHO-I's most recent national conference, Jen Wilkins and I had the honor of hosting a panel representing projects from four campuses across the country.  Our panelists included D'aun Green from Texas Tech University, Heath Rossner from the University of Chicago, and Shannon Brown from Southern New Hampshire University.
Panel examples included: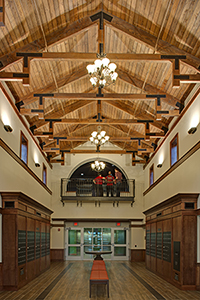 Texas Tech University West Village Halls
Designed by architectural firms Mackey Mitchell and Barnes Gromatzky Kosarek, Texas Tech's two most recently constructed residence halls, Honors Hall and West Village Halls, provided the following examples. West Village's central lobby features a vaulted warm wood ceiling allowing the main entrance space to enjoy a visual connection to the second floor.  Both welcoming and inspiring, the lobby elevates daily coming and going to be a social focal point and a point of pride while also accommodating pragmatic needs like receiving packages or waiting for a friend.  Outside arched breezeways allow pass thru pedestrian connections while formerly linking West Village's signature outdoor living rooms together.  Nestled within the embrace of the arches, study spaces above look down upon this pass thru spine. These cozy nooks satisfy a primordial need for prospect and refuge.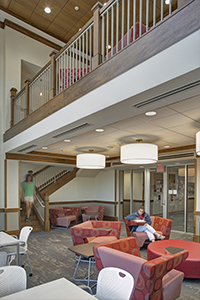 Texas Tech University Honors College Residence Hall
But what about spaces which intentionally mix residents between different levels? Texas Tech's most recently completed Honors College Residence Hall features an L-shaped, 4-story tall hall. The plan provides a crossroads of circulation between the two wings. Elevators placed adjacent to this intersection further strengthen this node as a key arrival point. To foster vertical connectivity between pairs of floors two-story connecting lounge spaces are stacked vertically and expressed in the new hall's massing as a bold tower while conversing with campus's distinctive Spanish Renaissance architecture. As West Texas sunsets are a site to behold the tower lounges' monumental west facing windows frame a dramatic view of campus, weather, and the plains beyond – a place to linger, pause, connect and reconnect.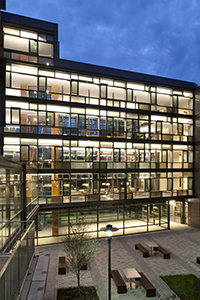 University of Rhode Island Hillside Hall
Designed by firms Mackey Mitchell and Lerner Ladds Bartels, the University of Rhode Island's Hillside Hall demonstrates the power of architecture to be a magnet for recruitment and retention. Hillside's design emphasizing living learning communities initially targeted for nursing and pharmacy students. Hillside features two residential wings set alongside a valley weaving through campus. The core of Hillside's magnetism is a glassy suspended bridge linking the two communities with two-story lounges spaces. The result positions the bridge to be a social crossroads. Generous use of glass on both sides reveal views of the campus landscape beyond and of students' life within. Flexible furniture enables the bridge space to a accommodate a range of intimate conversation-based activities. As living learning demonstration, the end result has dramatically boosted enrollment for the University's pharmacy and nursing students.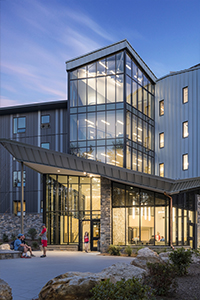 Southern New Hampshire University Monadnock Hall
Beyond "open-to-below" spaces, what other strategies foster connectivity between levels? Designed by firms Mackey Mitchell and Lavallee Brensigner, Southern New Hampshire University's Monadnock Hall shows how thoughtful space programming can also accomplish the goal. Monadnock translates to mean the mountain that stands alone within a gently sloping plain. The design expresses that meaning by featuring two residential wings linked by a sculpturally glassy central knuckle. The two wings are the plain, and the knuckle is the mountain.  The residential units are apartment style underscoring the need to encourage residents to step out and get to know one another. In contrast to repeating the same program on each level, differing "destination" program elements on each floor encourages students to go to floors other than their own.
Cultivating a vibrant sense of community is influenced by many factors, not the least of which is deeply considering the social choreography in shaping interaction and socialization.