Since 1968, Mackey Mitchell has been part of the fabric of the St. Louis community. In anticipation of our upcoming 50th anniversary and to celebrate the diversity of our region, we asked employees to share what they love most about their neighborhoods and how they work to impact their communities.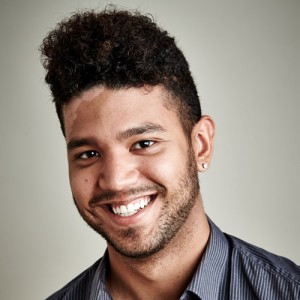 Name:  Jake Banton
Where do you live?: I live in Downtown St. Louis in the Motor Lofts building on Washington Avenue. Formerly known as the Martin Shauhnessy Building, it was constructed in 1906 as a motor parts warehouse. Designed by Barnett, Haynes & Barnett as the first fire-proof building in St. Louis, it was constructed with concrete floor slabs, terracotta-clad iron columns and a brick exterior.
Today the building has been renovated to house 56 apartments, 19 condominiums, and is home to Downtown Children's Center and Gateway Greening on the ground floor.
How long have you lived there?: I have only lived downtown for a little over a year, but my family has strong roots in the city.  A brief history:
In 1958, my grandparents moved into their first house in the JeffVanderlou neighborhood in North St. Louis. At the time, the neighborhood was all white and the owner wouldn't sell to my grandfather who is black, and my grandmother, who is Filipino. They found an attorney who acted as a straw buyer who then transferred the title over to them. They are both physicians and had their own private practice that they ran out of the first floor of their home. Soon after, my grandfather was appointed as City Health Commissioner, the first black man to hold the job. They lived there until 1971 when they bought a home in Town and Country where they were also the first black family in the neighborhood. Because of residency requirements, my grandfather had to give up his role as City Health Commissioner, but was later appointed as the first black Director of the St. Louis County Health Department, where he oversaw the merger of the Health Department and the County Hospital. Meanwhile, my grandmother ran the practice, moving it to the Tandy Medical building at the corner of Kingshighway and Natural Bridge. She maintained it until 1985, when she began working full time for the Veterans Administration.
My dad was born in St. Louis and lived in the city for before the family moved out to Town and Country when he was 13. My mom, who was born in Chicago, moved to Manchester, MO with the rest of her family when she was 17. Both went away for college, my mom going to the University of Iowa and my dad to Johns Hopkins. Returning to St. Louis after college, both of my parents had a brief stint living in the city when they attended St. Louis University School of Medicine where they met. They lived together for a few years in an apartment in the Central West End before buying a house in Fenton in 1990.
Growing up in Fenton and Ballwin, I really only ventured into the city when our family would go to a show, sport's game or other special events. As I grew older and got my own car, I began to explore more and soon fell in love with everything the city had to offer. After I graduated from college and began to work at MMA, I jumped at the opportunity to live downtown to start a new chapter in my life. While it's hard to know exactly what the future holds, I hope to nurture my own roots in this city for years to come.
What is your favorite place in your community?: Oh gosh, it's too hard to pick only one, so I'm going to cheat and sort it by type. There are tons of great restaurants downtown, but my favorite is Mango on Washington Ave. They serve Peruvian food with a modern flare and I have never had something that was less than excellent from their menu. Afterwards you might see me at 360 atop the Hilton. I'm already a sucker for great views, but throw in the bonus of good food and drinks and not to mention the ability to peer into Busch Stadium to watch a Cards game….just take all my money. However, if I ever feel the need for a little peace and relaxation I usually walk down to Citygarden, a beautiful urban park with lush trees, bushes and flowers, fantastic interactive sculptures and pools and fountains where kids can play and cool off. Find a shady spot to curl up with a book or enjoy a sandwich and the city will seem to melt away. You'll be left with your thoughts and the occasional joyful squeal of a child as they splash around in the water.
What exciting things are happening in your community?: One of the best things about being downtown is that there's always something happening. As the cultural heart of the region, there are festivals, baseball or hockey games, concerts, conventions, and more happening every week. Downtown is also continuing to revitalize, grow, and change. There are many huge development projects in the works and the number of empty buildings is declining at an accelerating rate. Next year new residential and office construction will begin as phase 2 of ballpark village. My advice to others? Get in while you still can.
For more info about Jake, you can view his profile HERE.