As the second oldest women's college in the US, Stephens College in Columbia, MO has a rich and significant history. In addition to numerous notable alumnae, including Annie Potts, Jennifer Tilly and Jeane Kirkpatrick (first female US Ambassador to the UN), the original campus core is a national historic district, featuring several buildings constructed between 1841 and 1941. The school owns several other architecturally significant buildings, such as the Firestone Baars Chapel designed by Eero Saarinen and a beautiful library designed by Eugene Mackey, Jr.
Mackey Mitchell began partnering with Stephens in 2012 on strategies to transform and revitalize its historic campus.  Following decades without a significant capital project, the first phase of the new plan was critical to establish momentum, articulate a new campus vision, and provide high-performing learning space for growth of STEM disciplines.  Achieved under a challenging $6 million budget, the renovation and expansion of Sampson Hall provides over 20,000sf of modern teaching and laboratory space for the college's Master of Physician Assistant Studies program.
Campus leaders made a bold decision to renovate and expand a nondescript, vacant building to be the home for one of the school's most vital and fastest growing degree programs. Located along a major downtown thoroughfare, the new building would also serve as a beacon to the community. We began by stripping the 1940 building to its structural shell, then fitted it with modern infrastructure and systems to support high-technology classrooms and labs.  The bottom two floors house a mix of formal and informal learning spaces, anchored by an adjoining pair of 30-seat active learning classrooms on the Ground Floor.  The upper two floors provide more specialized, simulation learning spaces, from exam and observation rooms with the latest technology, to a sophisticated, 7-table Anatomy Lab on the top floor. Here are some of the most dramatic transformations: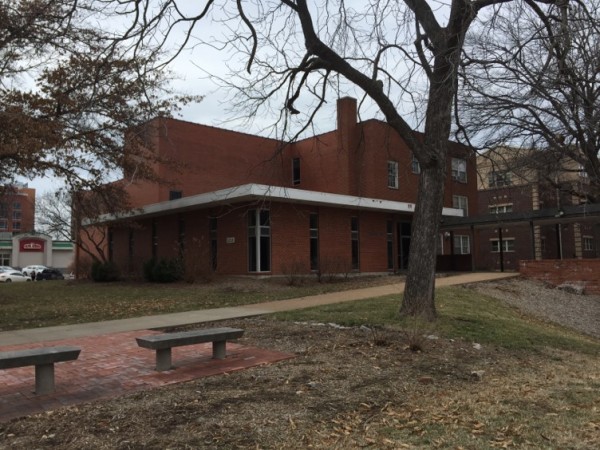 Before renovation, the building occupied an underutilized corner of campus. The design team immediately saw the potential in the site to become a beacon of activity and signify arrival to the Stephen's campus.
For more information about this project, you can visit our project page HERE.
To learn more about the Stephens College PA program and initiatives you can read this informative article.