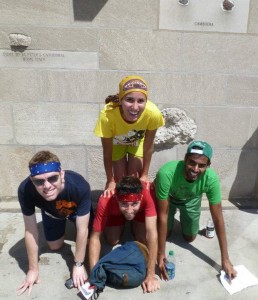 John Brown and Avik Guha competed in the "Chicago Challenge Nation" on July 28th along with two of their friends as team "Mochi."  Challenge Nation is a series of urban adventure races to be held this year in 34 cities nationwide. Each challenge is part 5K race, part scavenger hunt, and part urban exploration, which according to John and Avik, "All add up to 100% fun as teams compete against other challengers to quickly solve the clues provided and beat them to the finish line." 
The race started in Marina City with teams racing through Chicago stopping to photograph themselves in front of locations where they solved the challenge. (In this photo they found a stone from the Egyptian Pryamids embedded in the Chicago Tribune Building based on clues they were given).
 Although smart phones were allowed, the twelve cryptic clues involved traveling on foot to all locations, along with a lot of clever problem solving.  Of the 150 teams competing, team "Mochi" came in 4th! They'll be going to the Challenge National finals in New Orleans come December, and are already talking about the St. Louis Challenge Nation coming up in September.