Designed to provide venues for social interaction, students at the University of Minnesota's 17th Avenue Residence Hall can interact, socialize, and study in a variety of common areas. The opportunity to share experiences and develop friendships in a comfortable, welcoming environment contributes to success in the classroom.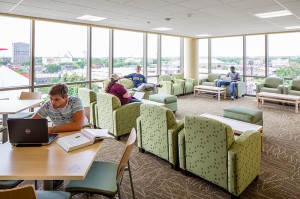 Each floor of the $62.5 million project features three community lounges and study rooms with stunning views of the Minneapolis skyline. Amenities include a large fireplace, a technology center, laundry facilities, music practice rooms, a game room and community kitchen. A built-in restaurant provides an open kitchen where chefs prepare made-to-order, fresh food. Designed to achieve LEED Silver status, it's the first sustainable residence hall on campus.
The facility won a 2013 Best in Real Estate Award for Student Housing Development from the Minneapolis St. Paul Business Journal, and was presented  by Dan Mitchell and Laurie McLaughlin, Director of Housing & Residential Life, at the 2013 ACUHO-I conference. The project was designed by Mackey Mitchell Architects with TKDA as the Architect-of-Record.  Mackey Mitchell's team included Dan Mitchell, Jordan Gatewood, Nick Naeger and Stacey Wehe.