Although the Savannah College of Art and Design (SCAD) campus will always be associated with downtown Savannah, the college's presence south of the historic district continues to grow. The new $18 million Montgomery House challenges convention.
Located within a triangular 6.5 acre former industrial site, the 500-bed residence hall is constructed of 50-foot tall precast concrete panels. Inside this precast concrete shell is something not often seen in residence halls…art…and lots of it.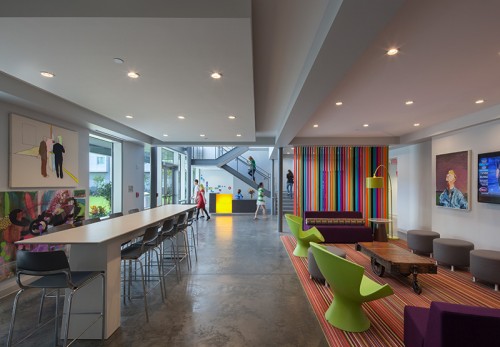 Interior spaces were conceived as canvases for the display of artwork which enliven the building's raw, loft-like feel. The project also features three painting studios, study lounges, conference room, video gaming room, and computer labs with views to a lushly landscaped courtyard. SCAD's new residence hall is worthy of the school's global reputation for cutting edge facilities.
Clayco provided construction services for the 115,000SF residence hall designed by Mackey Mitchell Architects in association with SCAD Design Group and Dawson Architects. Interior design was by SCAD Design Group. MMA's project team included Dan Mitchell, Steve Emer, Jordan Gatewood, and Clint Smith.