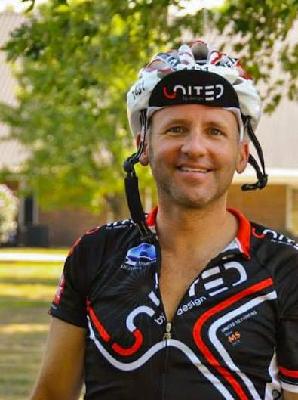 When Greg Frankenfeld isn't managing a big project for Mackey Mitchell Architects, you'll most likely find him running in a "big race" for a cause or just for fun. He'll be participating in the Bike MS ride on September 6th and 7th, and recently to help raise funds for MS, he "wowed" us with his athleticism and the events he's participated in during 2014.
From April through August he ran the GO St. Louis Half Marathon (Run 13.1 miles); the Litchfield Biathlon (Run 4 miles, Bike 12 Miles);  the Eads Bridge Duathlon (Run 3 miles, Bike 10 miles);  TriZOU Triathlon (Run 3 miles, Bike 14 miles, Swim 400 meters);  Highland IL Biathlon (Run 5 miles, Bike 20 miles); Yoga 6 6k for Pedal the Cause (Run 6k);  St. Peters Rec Plex Triathlon (Swim 500 meters, Bike 21.6 miles, Run 5 miles); Ultramax Quartermax Triathlon (Swim .6 miles, Bike 28 miles, Run 6.5 miles); New Town Triathlon (Swim .62 miles, Bike 200 miles, Run 4 miles); USAT AG National Championships-Olympic Distance (Swim 1.5k, Bike 40k, Run 10k); Big George Triathlon – Half Ironman Distance (Swim 1.2 miles, Bike 56 miles, Run 13.1 miles).
And, it's worth noting that on all but 4 events (one being a competition with the country's top athletes) Greg came in 1st Place in his Age Group on every event!  He's an inspiration to as all!  Oh, by the way, been to the gym lately?