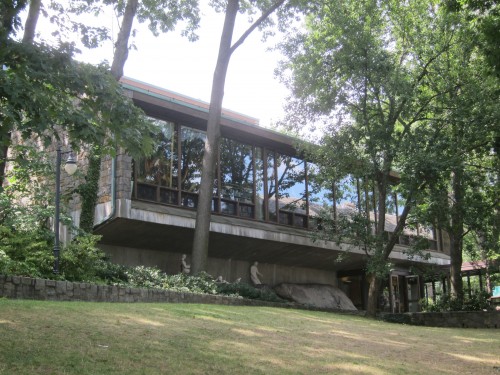 Principal and architect Jim Konrad frequently visits his son in New York City.  During his last trip, he decided to take the advice of Gene Mackey to visit a project Gene's father had designed back in 1968.
Tate Library at the Fieldston School was the last project designed by Gene's father (also named Gene Mackey). In January, 1968, the New York Times reported "Construction work will begin on an $800,000 library at the Fieldston School in the Riverdale section of the Bronx. The library's architects are Murphy & Mackey of St. Louis…The two-story structure will be cantilevered over a rocky knoll and have a pitched roof, fieldstone walls, and large expanses of glass."
When Jim checked in with the school's security guard, she was thrilled that he was visiting the school at the suggestion of the son (Gene Mackey, III) of the architect who designed their library. According to Jim, the building has withstood the test of time. It sits comfortably on the hillside within a forest of mature trees. Generous window areas frame beautiful campus views in all directions, and after 45 years its durable interiors have weathered well under constant use by lower, middle, and upper school students. Many of its architectural premises have been followed by the son of the architect who designed the enduring Tate Library in Riverdale.