This past Saturday, I got to share one of my personal passions by leading a group of 20 architects and friends on one of my offbeat and original tours of St. Louis.
Before becoming Mackey Mitchell's marketing coordinator, I founded the private tour company RenegadeSTL, as a way to share my love of St. Louis history. For this tour, I directed the bus to some of St. Louis's lesser-known neighborhoods to uncover hidden and lost histories.
One of the tour highlights was visiting the mile-long graffiti wall on South Wharf Street. The wall is home to an underground art event called "Paint Louis," and draws some of the best graffiti artists in the country.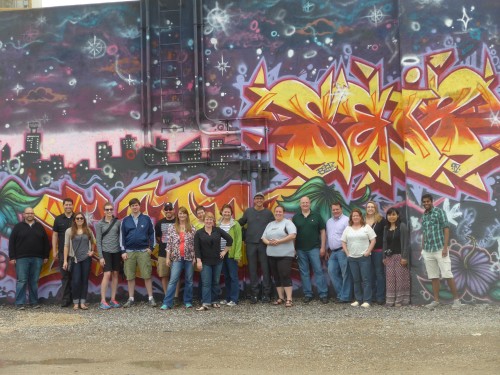 After a private tour of the Central Public Library renovations, our bus crossed the Eads Bridge, learning about 19th Century businessman James Buchanan Eads' engineering and architectural legacy and then on to East St. Louis to see the last pieces of an historic building cleared for demolition. After crossing back to St. Louis via the new "Stan the Span" bridge, the bus traveled through Old North St. Louis to Hyde Park to see two of our country's last seven standpipe water towers. Steve Emer (MMA president) talked about his involvement in restoring Holy Trinity Church (1899), a dramatic fixture in the North St. Louis landscape.  The group then traveled south to the Cherokee neighborhood, making a stop at a local business to learn about exciting developments happening in this historic neighborhood.
In addition to all the history, staff members shared fascinating stories of past MMA projects. Afterwards, the group gathered for a fine lunch and some cold ones at Square One Brewery where everyone reflected on their new-found sense of the city's history.
RenegadeSTL is near and dear to my heart and it was great to share it with my Mackey Mitchell family!