The interns are here!  Some of the best parts about summer in the office (besides walking down to Busch Stadium for brats at lunch) are the fresh perspectives and insight that our summer intern program brings.  This year's pair brings strong architectural skills and a passion for their chosen career, as well as global backgrounds that are unparalleled among our staff.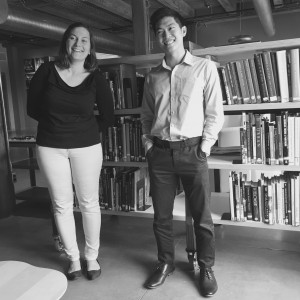 Marina Curac, working towards her Masters degree in Architecture from Washington University in St. Louis, comes to the United States from Croatia.  She has studied in Italy, Finland, and Argentina.  She has a particular interest in renovation and preservation, and living and working in downtown St. Louis allow her to have a front row seat to the many transformations happening right now.
Youngsoo Yang is a student in the Master of Architecture program at Drury University. He has traveled extensively around the world, living and studying in Russia, Azerbaijan, Spain, as well as his native South Korea. He was a former intern at the United Nations Office on Sustainable Development, which he feels gave him invaluable experience at understanding how architecture and sustainability come together on a global scale.
Other News
Our summer intern from last year, Nicole Esser, has joined the firm as a full-time staff member. We congratulate on her recent graduation from Tulane University, where she graduated magna cum laude and are so glad she chose to return to MMA!
Staff member Adriana Perrone recently completed her  licensure exams and was also named to the St. Louis Business Journal's 30 Under 30 List for 2016.  We are very proud of this rising star!