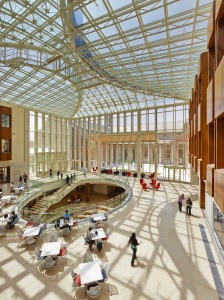 It takes a lot of team effort to make a building the size of Washington University's Olin Business School a major success.  That's why the St. Louis Council of Construction Consumers (SLCCC)  recognizes all the players in their Best Practices and Inclusion Advocacy Awards. The organization recognizes the entire team that played a role in the culmination of this 80,000SF building in the category of  "materials management," a monumental challenge that typically goes unrecognized. Mackey Mitchell was named as part of the winning team who made things literally "move ahead."  Mackey Mitchell's team included Gene Mackey, Greg Frankenfeld, Nick Naeger, Gregory Keppel, Beth Kutterer-Sanchez, Avik Guha and Matthew Roeder.
Others team members recognized were Washington University in St. Louis; Tarlton; Moore Ruble Yudell Architects and Planners; BurroHappold Engineering; William Tao & Associates; KPFF Engineers; and Cole.
According to Construction News and Review, "turning from precast to poured-in-place-concrete to fight a winter time frame;  pre-assembly of the building's centerpieces –  a 90-foot-by-90-foot unsupported skylight in the fabricator's yard to avoid on-site glitches; and prefabrication of mechanical systems, saved 90 days out of the schedule allowing the 22-month project to finish on time.